Posted 10th November 2023 | 2 Comments
Friday briefing: Passenger figures rise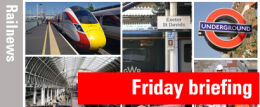 A total of 390 million journeys were made by train between 1 April to 30 June, according to the ORR. Journey totals are slightly inflated because each leg of a passenger's trip is counted separately, but even so the total is 19 per cent higher than in the same quarter between April and June last year. Revenue was £2.6 billion in the latest quarter, and this total was 10 per cent higher than it was a year earlier, after inflation is taken into account.
Underground workers approve more strikes
Members of the RMT at London Underground have voted in favour of continuing strikes in the dispute over job security, conditions of employment and pensions. The union said there had been a turnout of 54 per cent, and 95 per cent of those votes were in favour of continuing action. When all members were taken into account, 52 per cent supported more strikes. The union said it would 'now consider its next steps'.
Trains set to return on landslip line
Train services in West Yorkshire are expected to return to normal on Monday after a collapsed wall caused a landslip in Dewsbury two days ago. The crack in part of a retaining wall that runs alongside the railway south of Dewsbury station is several metres wide, and the line towards Huddersfield had to be closed. Some trains are being diverted while engineers repair the damage.
Marston Vale Line to reopen
Trains will start running again on 20 November between Bedford and Bletchley on the Marston Vale Line. London Northwestern Railway has been providing buses on the route since Vivarail went into administration in late 2022, when LNW withdrew the Vivarail Class 230s. Three Class 150 diesel units have been acquired from other lines.
Reader Comments:
Views expressed in submitted comments are that of the author, and not necessarily shared by Railnews.
Passenger numbers will also be depressed because of industrial action. I know many services have been suffering from severe overcrowding for a long time now (TfW and Northern especially) and passengers are deterred from using rail transport. Patronage would be considerably greater if a more reliable and more attractive service was delivered.
Have Your Say