Posted 9th November 2023 | No Comments
Thursday briefing: Midland Main Line reopens after urgent embankment repair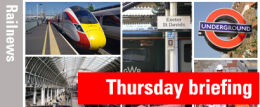 The normal train service on the Midland Main Line between Kettering and Leicester has been restored, after a six-day closure to allow an embankment south of Market Harborough to be stablised. Network Rail engineers worked day and night to install soil nails into the side of the embankment, and then added netting which was tensioned to strengthen the affected area. After tests to make sure the repair had worked, more ballast was laid and the tracks repaired.
Airport station
The modernised and enlarged station at Gatwick Airport will open on 21 November, said Network Rail. The station has gained a second concourse, eight new escalators and five new lifts. Stairways and platforms have also been widened.
Tri-mode fleet
CAF has been named as the successful bidder to build 10 tri-mode trains for LNER. The fleet will be leased from Porterbrook, and will be able to run in 25kV, diesel and battery modes.
Remembrance Day travel
Several operators are offering free rail travel for service personnel travelling to Remembrance Sunday services.Those wearing an armed forces uniform and carrying a military identification card, as well as cadets in uniform and veterans who display valid identification such as the Ministry of Defence issued Veteran's Badge, will qualify. Licensed poppy sellers are also included.
Have Your Say