Posted 7th November 2023 | 1 Comment
Draft Great British Railways Bill disappoints industry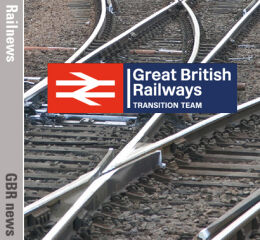 A draft Rail Reform Bill which would set up the new 'guiding mind' Great British Railways has been included in the King's Speech in the House of Lords.
Briefing notes published by the Government say: 'Given the scale and complexity of the changes being made to the sector, it is right that the draft Bill undergoes pre-legislative scrutiny to provide Parliamentarians and experts across industry the opportunity to review and test the legislation in draft. This will allow for a swifter passage through Parliament when the legislation is brought forward.'
But the Bill's draft status has disappointed some observers in the rail industry.
Lobbying group Rail Partners' chief executive Andy Bagnall said: 'The recommitment to establishing Great British Railways with the publication of a draft bill is a step forward, but it is a missed opportunity to not actually legislate in this Parliament.
'The rail industry has been awaiting progress on reform since the Williams Review started over five years ago, culminating in the Plan for Rail being published in 2021. Delivering that plan remains the best foundation to build a better railway for Britain, and not seizing the moment now means continuing uncertainty until after the next General Election.'
Norman Baker, from the charity Campaign for Better Transport, said: 'We welcome the renewed commitment to Great British Railways as a guiding mind and arms-length body but it is not clear why this is a draft Rail Reform Bill rather than a commitment to legislate given this has already been subject to extensive discussion and is largely non-controversial across all the political parties.'
Former Strategic Rail Authority chairman and chief executive Richard Bowker told the PA press agency: 'I am genuinely struggling to see why it is so complex that, two-and-a-half years since the Williams-Shapps plan was announced, we're still only at this point.
'Anything that moves us towards a world where government officials have less to do with the day-to-day running things is good news, but why so slow? Time is really of the essence. What have you been doing for two-and-a-half years?
'There's no doubt that, if you have a disrupted, unreliable railway, it affects people's willingness to travel.
'We've got to get this industrial relations issue resolved, and we've got to get back to absolute basics in terms of running a boring, reliable railway.
'Anything that resolves the issues of today and starts getting the basic things right, we've got to get on with it fast, because if we're not careful, people will lose faith.'
Railway Industry Association chief executive Darren Caplan said: 'The Railway Industry Association and 70 of our members campaigned on this earlier this year, writing to Prime Minister Rishi Sunak, about the need to take the establishment of Great British Railways forward, to provide some certainty about rail restructure and avoid hiatus in decision-making.
'And so whilst we would have wanted a full Transport Bill providing for GBR, today's inclusion of a Draft Bill does seem to be progress and a statement of Government intent to reform rail, ultimately bringing track and train closer together, and developing a "guiding mind" and a long-term plan for the railways. We urge the Government to begin the pre-legislative scrutiny process without delay.'
Urban Transport Group director Jason Prince said: 'Many of the much-needed transport laws promised in the current Parliamentary session have once again failed to materialise. Although we welcome the prospect of a new Automated Vehicles Bill, it is disappointing that the Government has only presented a draft Rail Reform Bill, effectively leaving any prospect of reform this side of the General Election stuck in the sidings.'
Reader Comments:
Views expressed in submitted comments are that of the author, and not necessarily shared by Railnews.
Kicked into the long grass yet again. Pathetic.