Posted 31st October 2023 | 1 Comment
Regulator approves £43.1 billion Network Rail budget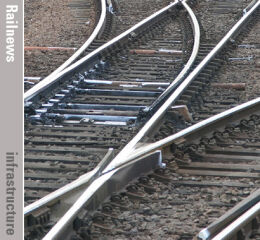 Updated 09.30
Network Rail's spending plans for Control Period 7, which begins in April, have been given the green light by the Office of Rail and Road.
The budget of £43.1 billion consists of £38.5 billion for England and Wales, and £4.6 billion for Scotland.
Network Rail has changed some of its proposals since the ORR issued its draft determination in June. Among the revisions is an additional £600 million for safeguarding its infrastructure, which is ageing and under threat, as well as improving safety and performance.
Train performance covers punctuality and cancellations, and Network Rail will need to work closely on improving performance with passenger operators. The ORR said 'targets are more challenging than originally proposed by Network Rail but are realistic'.
Freight has been set 'challenging' targets, with growth set at 7.5 per cent in England and Wales and 8.7 per cent in Scotland. The ORR is supporting Network Rail's plan to upgrade its structures so that more rail freight can be moved. Track access charges for freight operators will continue to be capped.
Other targets for Network Rail include dealing with risks effectively, particularly those posed by financial pressures and climate change. Network Rail will be required to reduce its carbon emissions by more than 20 per cent, while biodiversity is also to be preserved and enhanced.
Money will continue to be tight. The ORR said: 'It is therefore vital that Network Rail continues to build on the success of recent efficiency initiatives, to help secure a financially sustainable railway and deliver value for money.'
The ORR's director for economics, finance and markets Will Godfrey said: 'I'm pleased to see that Network Rail has responded well to our challenges to its initial plans and the result is more robust and customer focused plans which we believe will deliver better outcomes for passengers and freight.
'The plans are challenging but achievable. Our five-year funding and regulatory settlement provides stability and a platform for the industry to plan and invest. This is important not just for Network Rail, but also for passenger and freight operators and the supply chain.
'Network Rail must now set out how it will deliver on our final determination.'
Network Rail chief executive Andrew Haines responded: 'The rail sector enjoys an almost unique level of funding certainty and that is a privilege that comes with serious responsibilities. More than £43 billion will be spent over the next five years to deliver a safer and better railway for passengers and freight customers. Today's announcement gives clarity and certainty for the railway and our supply chain partners and will now enable us to continue building on our detailed delivery plans.
'The UK and Scottish Governments' funding commitment and today's news is a significant vote of confidence in the industry's future. The impact of inflation, tight public finances and the need to invest more to manage the impact of more frequent extreme weather on the infrastructure does mean that our funding will need to go further than ever before.
'Throughout CP7 we are committing to delivering extensive investments across the length and breadth of the network. In addition to improvements to safety, we'll work to boost train performance, usher in new technologies, invest significantly more funds to tackle climate change as well as make £3.6 billion of efficiency savings.'
Reader Comments:
Views expressed in submitted comments are that of the author, and not necessarily shared by Railnews.