Posted 20th October 2023 | No Comments
RMT members approve another six months of strikes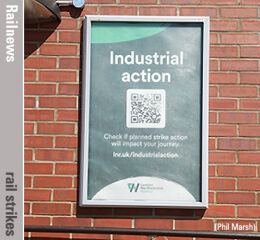 Members of the RMT have voted in favour of continuing strikes for another six months in the long-running dispute with the Rail Delivery Group over pay and jobs. In the wake of the result, the union has warned that it is prepared to call further stoppages over the autumn and winter unless there is a settlement.
The ballot was held to comply with the law which governs industrial relations, and involved more than 20,000 RMT members at most train operators in England.
The union said 89.9 per cent had voted to continue strikes, and that the turnout had been 63.6 per cent.
RMT general secretary Mick Lynch said: 'I congratulate our members for delivering a decisive mandate for future industrial action as we pursue a negotiated settlement of jobs, pay and conditions.
'This ringing endorsement of RMT's approach to the dispute now means we have industrial leverage to secure an improved offer from the RDG.
'The government who controls this dispute through a contractual mandate over the train operating companies, must now allow the Rail Delivery Group to put forward a revised offer so we can work towards reaching a settlement.
'However, if no new offer is forthcoming, we will once again take strike action in defence of our members' livelihoods.'
The RDG responded: 'We want to resolve this dispute and are acutely aware of the damaging impact it's having on our passengers, our people and the many businesses up and down the country who rely on rail.
'We call on the RMT executive to bring an end to this dispute and put the deal, which offers job security guarantees and a pay rise of up to 13 per cent to the lowest paid workers, to its members so we can end the uncertainty and move forward with delivering a better railway for our customers.'