Posted 18th October 2023 | 3 Comments
Infrastructure Commission urges public transport investment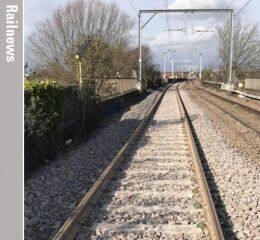 The Second National Infrastructure Assessment has been published today, and it says economic growth will be achieved by improving public transport in large regional cities.
It is also advising road improvements on stretches which are 'underperforming', but these should be accompanied by a 'new, comprehensive and long term' plan for railways in the Midlands and North of England.
The National Infrastructure Commission's report has appeared just two weeks since the Prime Minister announced that he was axing Phases 2A and 2B of HS2 between the West Midlands, Crewe and Manchester.
The Commission is warning that 'all infrastructure systems should be more resilient' and also protect the environment by reducing carbon emissions.
It continues: 'The costs as well as the benefits of transforming the UK's infrastructure will be borne by the public as taxpayers and billpayers. But making these investments will help lower costs for households and keep them lower in the longer term. These upfront investments will be paid for by consumers in their bills over the coming decades, not all at once.'
The Commission's chair, Sir John Armitt, said: 'The good news is that modern, reliable infrastructure can support economic growth, help tackle climate change and enhance the natural environment.
'We stand at a pivotal moment in time, with the opportunity to make a major difference to this country's future. But we need to get on with it.
'People often talk about infrastructure as the backbone of our economy: what our infrastructure needs now is the collective mettle to turn commitments into action that will reap rewards for decades to come.'
Sir John has already described the decision not to continue HS2 north of Birmingham as 'deeply disappointing', and he has now sounded a warning about the land which had already been bought for the project and which the government is now planning to sell as soon as possible.
He told the BBC: 'I think it's a mistake. I think that the land should be kept for at least two or three years to give the opportunity for people to revisit that and look at what can be done within that space and find a more cost-effective solution, not write it off today.
'I am disappointed because I think it's what we often describe as a sort of knee-jerk, snap reaction.
'We had an integrated plan a few weeks ago, we've now lost that. There are a number of projects, some of which already existed, some new ones. Let's get those properly turned into a well-thought-through, integrated plan for the future.'
Reader Comments:
Views expressed in submitted comments are that of the author, and not necessarily shared by Railnews.
I'm not an economist, but am aware that many economic markets have "externalities" ( hidden costs and benefits) that are relevant, but often not taken into account as a "market force". More obvious examples might be when a rail service can give capacity relief to parralell roads and / or aviation corridors, or when , more generally a passenger or freight service not only gives this kind of benefit,, but others too, together with possible costs, such as extra environmental burdens.

Rather than DfT trying to apply a creeping barrage of ever increasing command and control, why not give them the the task of designing a sfructure of incentivising subsidies and charges for the transport market, and let the operators then respond .

Last year I mended several items including a Coffee Machine, a Greenhouse Door, a Car Aerial and a Hedge Trimmer by obtaining cheap small parts ordered on-line. I guess from one-man home businesses operating in remote locations. I wondered if 'mending things' actually shows up as 'growth' in the statistics, or actually as 'negative growth' because I didn't buy new items ?

Good luck getting the extra funds for the much-needed inter-urban connectivity, when the farm's been bet on HS2. Safeguarded land north of Birmingham has to be sold for a number of reasons: (1) to avoid blight, (2) to claw back public money, (3) to allow former owners to get back their property, and (4) to avoid the possibility that Adonis, Steer and co will lean on Starmer to get HS2 restarted. Armitt's comments contradict his 2013 review which did not come out in favour of HS2.