Posted 24th July 2023 | No Comments
ASLEF announces fifth overtime ban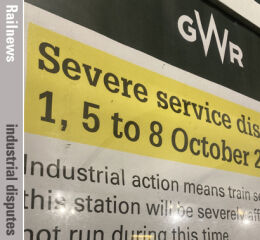 The train drivers' union ASLEF has announced another week-long overtime ban, from 7 to 12 August.
It will be the fifth time that ASLEF has staged such a ban since the first between 15 to 20 May. There have also been 11 one day ASLEF strikes this year.
The union said its negotiators had attended talks with the Rail Industry Recovery Group over eight days earlier this year, but the result had been an offer of 4 per cent on 26 April 'with a further rise dependent, in a naked land grab, on drivers giving up terms and conditions for which we have fought and negotiated, for years'.
General secretary Mick Whelan said: 'We don't want to take this action – because we don't want people to be inconvenienced – but the train companies, and the government which stands behind them, have forced us into this place because they refuse to sit down and talk to us and have not made a fair and sensible pay offer to train drivers who have not had one for four years – since 2019 – while prices have soared in that time by more than 12 per cent.
'We haven't had a meeting, or a phone call, a text message or an email for three months, and we haven't sat down with the government since 6 January. That shows how little the companies and the government care about passengers and staff. They are happy to let this go on and on.
'But we are determined to get a proper increase – a fair pay rise – for men and women who haven't had one for four years while inflation has been roaring away. Our members, perfectly reasonably, want to be able to buy now what they could buy back in 2019.'
The withdrawal of non-contractual overtime will apply on Avanti West Coast, Chiltern Railways, CrossCountry, East Midlands Railway, Greater Anglia, Great Western Railway, Govia Thameslink Railway (including Gatwick Express, Great Northern and Southern), LNER, Northern, Southeastern, South Western Railway (including Island Line), TransPennine Express and West Midlands Trains (London NorthWestern and West Midlands Railway)..
The Rail Delivery Group responded: 'ASLEF's leadership continues to disrupt customers' travel plans. They rejected a fair and affordable offer without putting it to their members, which would take average driver base salaries for a four-day week without overtime from £60,000 to nearly £65,000 by the end of 2023 pay awards.
'Train companies will work hard to minimise the impact of the overtime ban that will affect the level of cancellations and the punctuality of some services. Customers are advised to plan their journey in advance and check the latest travel information before they travel.
'We ask ASLEF to recognise the very real financial challenge the industry is facing and work with us to deliver a better, more reliable railway with a strong long-term future.'