Posted 15th June 2023 | No Comments
ASLEF members vote for more strikes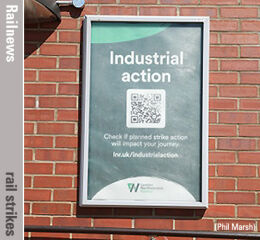 Drivers belonging to ASLEF have voted by a large majority to continue strikes and other industrial action at the English train operators.
In most cases fewer than 10 per cent of those who voted opposed more action in the continuing pay dispute. On Island Line, all 10 ASLEF drivers voted in favour of further strikes.
The ballot results have come just after ASLEF members in Scotland rejected a pay offer from ScotRail, although the RMT has accepted it.
ASLEF general secretary Mick Whelan said: 'Once again our members have decided, and made it clear that we are in this for the long haul.
'Train drivers are sick to the back teeth of their employers and the government failing to negotiate in good faith, and blaming drivers for their inability to manage services and the rail industry effectively.
'ASLEF members, the key workers who kept our country moving through the pandemic, are simply asking for a fair deal on pay so that they can afford to keep up with their outgoings in this government-made cost of living crisis.
'We have always said we are prepared to come to the table but the government and the train companies need to understand that this dispute won't be resolved by trying to bully our members into accepting worse terms and conditions.'
The Rail Delivery Group and the Department for Transport have yet to comment.