Posted 13th June 2023 | No Comments
ASLEF members reject ScotRail pay offer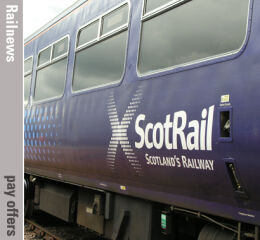 Members of the drivers' union ASLEF have rejected a pay offer from ScotRail.
The vote has followed a decision by members of the RMT to accept a similar offer, which includes a pay rise worth 5 per cent.
ASLEF called for pay talks to restart in the wake of its members' vote, in which 51.6 per cent opposed settlement.
ScotRail service delivery director David Simpson said: 'It is incredibly disappointing that ASLEF members have voted against this offer. The offer was a strong one, which gives drivers a well-deserved pay rise while also delivering good value for the taxpayer. We remain committed to working with ASLEF to agree a pay deal for our drivers.'
ASLEF's organiser in Scotland Kevin Lindsay said: 'Like other workers, our members are experiencing the impact of rocketing food, fuel and energy costs.
'But we also know the important service Scotland's train drivers provide and that's why we are calling for pay talks with ScotRail to begin again immediately so we can take forward meaningful discussion on fair pay.'