Posted 18th May 2023 | No Comments
ASLEF reports 'significant' pay offers from Scotland and Wales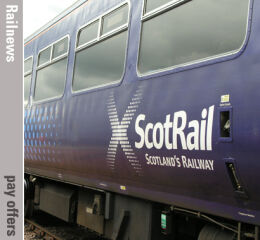 The union which represents most train drivers says it has received 'significant' pay offers from ScotRail and Transport for Wales which it is now putting out to a members' ballot, with a recommendation to accept.
ASLEF is comparing this progress with the situation in England, where it is about to stage two more strikes affecting 13 train operators on 31 May and 3 June. It has also called an overtime ban this week until Saturday and again on 1 June.
The union said the offer from ScotRail is a one-year deal, with a 5 per cent rise from £55,264 to £58,027.
Transport Wales is offering 8.9 per cent backdated to 1 April, taking drivers to £63,200. Pay would rise again by a further 7.9 per cent on 1 April 2024, taking drivers to £68,300, followed by a further 4.1 per cent in December 2024 to £71,000, as well as one more increase on 1 April 2025 equivalent to the Retail Price Index in February 2025.
ASLEF general secretary Mick Whelan said: 'Subject to the decision of our members – and because, as a trade union, we are a very democratic organisation, it is their decision – we have successfully negotiated significant pay increases for our members with the governments of the devolved nations.
'Sadly, this is in stark contrast with the response from the Westminster government. The train companies with which we are in dispute, because they have not offered their drivers an increase in salary since 2019, and the Tory government that stands behind them do not appear to be interested in getting a resolution that serves passengers and businesses as well as staff and will help to get Britain's railways back on track.
'This is further proof that ASLEF is willing to negotiate in good faith and modernise our railway. And further proof that the failure of negotiations with the TOCs in England is the responsibility of Mark Harper, the DfT, and the RDG. That has been laid bare for all to see.'
ScotRail service delivery director David Simpson told the Guardian: 'I'm pleased that the ASLEF executive committee has approved this strong pay offer and has recommended that its members vote to accept it.'