Posted 7th June 2022 | 2 Comments
RIA issues warning as passenger figures rise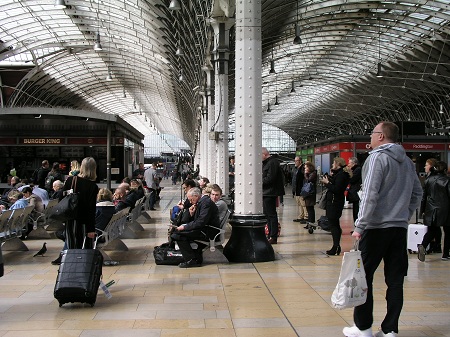 ---
Passenger totals rose to a new post-Covid record in late May, according to new figures from the Department for Transport.
Totals had hovered around 80 per cent of the totals before the lockdowns since the start of May, but they peaked at 92 per cent on the 25th, which was a Wednesday. They have since retreated again, and stood at 72% on the 30th.
They probably indicate a continuing drop in commuter traffic. Although the DfT's published records do not identify different travel purposes, Network Rail chief executive Andrew Haines had told the Commons Transport Committee on 30 March: 'We are seeing more appetite for leisure. Last week, it was 104 per cent of pre-pandemic levels across the country. In some areas of the country, it was at a significantly higher percentage again.'
The Railway Industry Association has welcomed the recent peaks in demand, but is also concerned that the government's plans for the industry will continue to assume that passenger figures can never recover in full.
RIA chief executive Darren Caplan said: 'These figures show that people are returning to rail in ever greater numbers. In the week of 16-22 May, every day of the week saw passenger figures hitting between 86 per cent and 92 per cent of pre-Covid levels, less than three months since pandemic restrictions started being relaxed. This is not just leisure travel coming back – commuter travel, including Mondays and Fridays, has been steadily increasing too.
'So RIA continues to ask Government and the new Great British Railways not to base the 30-year strategy it is planning on the last two years. If the industry and decision makers work closely together to continue attracting passengers back, the future for rail really can be bright in the years ahead.'
Reader Comments:
Views expressed in submitted comments are that of the author, and not necessarily shared by Railnews.
So what does Northern Trains do, cut commuter services thus frightening regular customers away. Pinch trains from these services to increase, for example, the Hull to Bridlington service for a seasonal, weather dependent irregular use.
Maybe, in passing, perhaps one should question whether Mr Haines ever travels by train? Isn't use the primary domain of the TOC's not Network Rail?

With the continuing increase in fuel costs for private cars there is an opportunity for the rail industry to tempt people back to the railways for leisure but cost of travel is the biggest hurdle in my view?