Posted 26th April 2022 | 3 Comments
RMT launches national rail strike ballot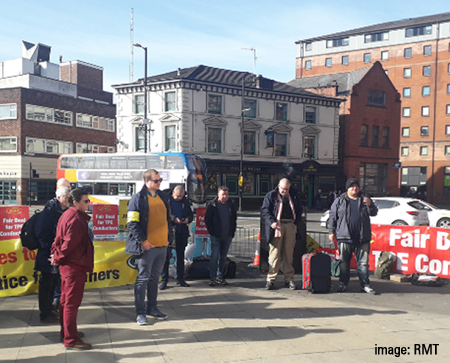 ---
More than 40,000 rail members of the RMT are starting to vote today on whether their union should stage a national strike in protest at impending job losses and what the union describes as 'attacks' on their terms and conditions of employment.
The ballot involves the RMT's members at Network Rail and 15 train operating companies, and if the vote is in favour of industrial action train services could be disrupted as soon as June.
RMT general secretary Mick Lynch said: 'Railway workers have had to contend with pay freezes, the prospect of losing their jobs and repeated attacks on their terms and conditions. Train Operating Companies have praised our members for being key workers during the pandemic but have refused to keep staff pay in line with inflation and soaring living costs. As a result, thousands of railway workers have seen their living standards plummet and have run out of patience.'
Network Rail said it is concentrating on building a sustainable railway, in the light of changes to travel patterns since the Covid-19 pandemic. Network Rail regional director Tim Shoveller said: 'We would not consider any changes that would make the railway less safe. We are disappointed that the RMT has taken this decision and urge them again to work with us, not against us, as we build an affordable railway fit for the future.'
The Rail Delivery Group, which represents the operators, has not commented. The ballot will run until 24 May.
Reader Comments:
Views expressed in submitted comments are that of the author, and not necessarily shared by Railnews.
The government which now effectively controls railway payrolls and who claim to want a "high-wage economy" expect the very same key workers they applauded last year to now bear a double-digit percentage real terms pay cut. No union could, nor should, allow the living standards of their members to be destroyed in this way for a crisis that is not of their making. The UK industry's finances are in a mess mainly because of the regime's deliberate decision to allow it to become so disproportionately dependent on passenger fare revenue, unlike most other European railways.

The usual anti-union obsessives will comment here insisting that the RMT will fail, but like stuck records they have been saying this for years and, thankfully, have been proven wrong in the vast majority of disputes which were successfully concluded to the satisfaction of RMT members. Inflation occurs because businesses are raising their prices, so don't be surprised when in response, workers raise the price of their labour!

Let them strike. A protracted dispute that ends the RMTs (post-covid, delusional) blackmail power, will benefit passenger rail in the medium to long term. A real shame that railfreight will get hammered, though.