Posted 21st April 2022 | 4 Comments
RMT threatens national rail strike over job losses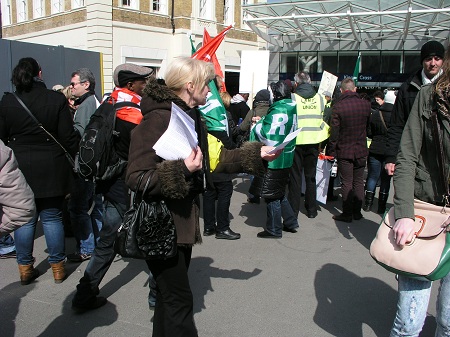 (Library picture)
---
A National Rail strike could be staged in June, if RMT members vote in favour of a walkout over job fears. Network Rail said it was 'disappointed'.
The RMT is starting its strike ballot on 26 April. It will cover more than 40,000 employees of Network Rail and 15 train operating companies.
The RMT claims that 'Network Rail intends to cut at least 2,500 safety critical maintenance jobs as part of a £2 billion reduction in spending', while it said that staff working for train operating companies have been subject to 'pay freezes, threats to jobs and attacks on their terms and conditions'.
RMT general secretary Mick Lynch said: 'Railway workers have had to contend with pay freezes, the prospect of losing their jobs and repeated attacks on their terms and conditions. Removing 2,500 safety critical jobs from Network Rail will spell disaster for the public, make accidents more likely and will increase the possibility of trains flying off the tracks.
'Train Operating Companies have praised our members for being key workers during the pandemic but have refused to keep staff pay in line with inflation and soaring living costs. As a result, thousands of railway workers have seen their living standards plummet and have run out of patience. The way for trade unions to effectively take on the cost-of-living crisis is to stand up for their members at work and take industrial action when employers are not moved by the force of reasoned argument.
'A national rail strike will bring the country to a standstill, but our members' livelihoods and passenger safety are our priorities.'
Network Rail regional director Tim Shoveller said: 'Our railway has been hit hard by the Covid-19 pandemic, and even as passenger numbers start to recover, we know travel habits and passenger demand have changed and the industry has to change too. We cannot keep relying on Government handouts, and so we must work together with train operators and our trades unions to save millions of pounds and deliver a more efficient railway.
'Our modernisation programme aims to build a sustainable future that delivers for passengers and creates better and safer jobs for our people. We would not consider any changes that would make the railway less safe. We are disappointed that the RMT has taken this decision and urge them again to work with us, not against us, as we build an affordable railway fit for the future.'
The ballot will run until 24 May.
Reader Comments:
Views expressed in submitted comments are that of the author, and not necessarily shared by Railnews.
Ah yes the mighty Tim Shoveller, a rail industry can't rely on Government handouts yet the published salaries by Government state that Mr Shoveller enjoys a salary of £350,000 a year which is paid directly by Government, I guess you're going to hand that salary back? Whilst I appreciate that things do need to change, and modernise let's not take advice from those that also benefit from extortionate Government salaries.


9% inflation but a 0% pay rise ....due to a disgrace of a government few rail workers voted for.

Lockdown parties, PPE contracts for their mates, shipping companies that never had a ship, massive wastage of taxpayers cash, private TOCs lining their pockets with £100Ms a year...

The rail workers will feel no loss to those, especially those in Tory heartlands who kept this lot in power. Enjoy your traffic jam.

It will make more people use cars and get less people back on the railways! Which in long run, will mean less money to pay staff!