Posted 11th January 2022 | 1 Comment
Transport for London's chief financial officer quits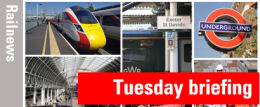 Transport for London's chief financial officer quits
The chief financial officer at Transport for London has resigned, and is moving to a similar post at London-focused internet company G.Network. Simon Kilonback is leaving at a time when TfL's finances are still in critical disarray, with the current funding support from the government to plug Covid revenue shortfalls only due to run until next month. Transport commissioner Andy Byford has paid tribute to the departing CFO, saying that 'the challenges we have faced as an organisation and the absolute centrality of efficiency within our business have meant that Simon's phenomenal contribution has been plain for all to see. His work will leave a lasting important legacy from which we will continue to build.'
Underground workers vote for strikes
London Underground staff who belong to the RMT have voted for strikes in a dispute over jobs, pensions and conditions. The union said a ballot has produced a 94 per cent vote in favour of stoppages. It is already staging walkouts on Night Tube and the Metropolitan Line in disputes over rosters. TfL has denied that there will be job losses as a result of any reorganisation of working patterns, but the RMT said it is seeking assurances over job security, working conditions and pensions. The RMT's executive committee is now considering what action to take.
More timetable cutbacks
The latest National Rail operator to announce general reductions in services because of Covid-related staff shortages is Merseyrail. Headways on all routes will be lengthened to 30mins from 17 January, and until then cancellations which reduce the number of trains in the existing timetables will continue. GWR has already thinned out its timetable from last Saturday, following the example of many other operators since the New Year. GWR says main lines and branches will see some cutbacks, but the situation will be reviewed every seven days. UPDATE: East Midlands Railway has also announced it will be reducing its services by about 4 per cent from Monday 17 January.
Avanti extends invitation to potential train drivers
Potential train drivers are being invited to join an online session run by Avanti West Coast starting at 18.00 this evening, although it will be possible to stream the event afterwards. Details of how to sign on to the sessions can be found at at https://www.eventbrite.com/e/avanti-west-coast-new-drivers-qa-tickets-238184635657?fbclid=IwAR0nVf9Fdkh5E1WCukukm2XYhOufVwu6cTNIJ6A-fJ4fiEg8QQalekIWHts. Avanti said the event is 'designed to give people more of an insight into what's involved in becoming a driver'.
Reader Comments:
Views expressed in submitted comments are that of the author, and not necessarily shared by Railnews.