Posted 6th December 2021 | 6 Comments
Rail freight 'booming' because of HGV driver shortage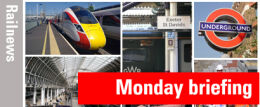 Rail freight 'booming' because of HGV driver shortage
THE shortage of HGV drivers is causing more businesses to start using rail freight, while existing users are stepping up their requirements. Tesco has been sending 65,000 containers a year by train but is planning to increase that total to 90,000, and the supermarket chain has also been running special wine trains, while furniture retailer Dunelm is reported to have agreed a lease for a new warehouse at the Daventry rail terminal, creating another 70 jobs. Railfreight operators have responded by increasing their resources. GB Railfreight, which opened a new training centre at Peterborough in April, said it was running 400 trains a day and had trained 70 new drivers over the past year. Operations manager Stuart Vinten told the BBC: 'The whole rail freight industry is booming.' The number of people employed at the Daventry International Rail Freight Terminal, which is alongside the West Coast Main Line, is also set to rise by another 4,000 in January when a new section opens. The reasons for the return to rail include the lorry driver shortage but also increasing concerns about the environment, with trains reducing the carbon footprint of freight transport significantly.
Reader Comments:
Views expressed in submitted comments are that of the author, and not necessarily shared by Railnews.
Very encouraging & long overdue. Hopefully will be part of longer term modal shift & not just a short term boost due to the current shortage of HGV drivers. Since the collapse of the power station coal market which seriously dented their bottom line the FOCs have faced the challenge of rebuilding market share. The intermodal market in particular has been challenging due to strong competition from road haulage leading to wafer thin margins. Thanks to investment in both rolling stock & infrastructure especially the new generation of inland distribution hubs the competitive advantages are shifting. There is still plenty of do to unlock bottlenecks on key Intetmodal routes including crucial gaps in electrification to fill. With reduced passenger services during the pandemic the FOCs in collaboration with NR have been able to take advantage of accelerating freight trains and running to the maximum length permissable. As passenger services resume let us hope these productivity gains can be maintained to the advantage of rail freight's competitive position.

Interesting . As far as it goes, railfreight of ISO containers to / from the major ports is a resounding success. However, not all factories or warehouses have facilities for handling containers ; also, terminal costs involve some form of cranage at least.

In 1990 / 91, there was a brief (a matter of months) service started carrying road semitrailers from Melton Mowbray to distribution centres in London and Manchester, by name of "Charterail". This was feasible despite the restrictive loading guage in GB. Also, the semitrailers did not need to be specially strengthened, as no lifting was involved ( the semitrailers were backed onto the rail wagon via a "ramp" that could swing out at an angle to the wagon ). Unfortunately, this all stopped, due to what Charterail pointed to as artificially high haulage rates by BR for use of their locomotives.

There are, though, two new possible similar technologies now being used in France ( Modalohr) and Germany ( CargoBeamer). Charterail showed such systems (slightly modified) could operate within our loading guages. Perhaps something of this sort might usefully be able to clear the roads of excess HGV's, with the success already seen with ISO containers on rail to / from our ports?

I like your comment.

Did you see that Heinz did a trial to get product from Europe to their main distribution centre in Wigan by unloading on the rail line behind the centre?

This is a win win, less lorries on the road. less pollution, more efficient delivery services etc etc Why wouldn't you? All we need to do it electrify more freight services and then we are moving to more of a green delivery service....

Open local container loops. Train calls at each place en route, crane lifts box onto lorry for local customers. Collects empties. An updated pick-up freight. Minimim infrastructure, maximum environmental benefit. Start now!