Posted 19th November 2021 | 12 Comments
Anger follows publication of Integrated Rail Plan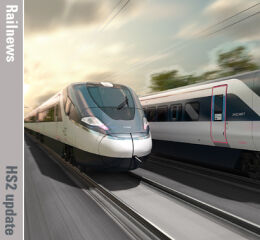 THE £96 billion Integrated Rail Plan for the North and Midlands has been greeted with bitter criticism in the north of England. Transport secretary Grant Shapps has decided to cut back the eastern leg of HS2 to terminate at East Midlands Parkway, but a new line will be built from Warrington to the 'western borders' of Yorkshire, while three main lines will be upgraded.
The Midland and Transpennine Main Lines will be electrified, while the East Coast Main Line is to be upgraded with line speed improvements and digital signalling.
Grant Shapps said: 'Our plan is ambitious, deliverable and backed by the largest single government investment ever made in our rail network. It will deliver punctual, frequent and reliable journeys for everyone, wherever they live.
'Just as the Victorians gave this country our railways nearly 200 years ago, this Integrated Rail Plan will create a modern, expanded railway fit for today and future generations. Significant improvements will be delivered rapidly, bringing communities closer together, creating jobs and making places more attractive to business, and in doing so, rebalancing opportunity across the country.
'Our plans go above and beyond the initial ambitions of HS2 and Northern Powerhouse Rail by delivering benefits for communities no matter their size, right across the North and Midlands, up to 10 to 15 years earlier.'
The Rail Delivery Group's director general Andy Bagnall responded: 'Rail has a vital role to play in driving the new economy and the fair, clean recovery the country wants to see. While millions of people will benefit from this major investment in boosting connectivity between major cities in the North of England and the Midlands, leaving out key pieces of the jigsaw will inevitably hold back the ability for the railways to power the levelling up agenda and the drive to net zero.'
The elements which have been cut back have angered some politicians and business leaders in the North.
Liverpool City Region Mayor Steve Rotheram said: 'The Integrated Rail Plan was a once in a generation opportunity to revolutionise our country's rail network. Properly delivered, it had the potential to be as transformative for rail travel as Stephenson's Rocket. Instead, they have proposed a service that could have been promoted by Gladstone in the Victorian era.
'What we have seen is a government pretending to deliver that transformation but doing it on the cheap. Communities across the North have been held back for decades, forced to accept sticking plaster solutions and grossly underfunded by government. Today's announcement is a continuation of that.'
Cllr Martin Gannon, who chairs the North East Joint Transport Committee, said: 'This is a hammer-blow for the North East and is the very opposite of levelling up. I'm not quite sure what our area has done to deserve such contempt. The Government appears to be arbitrarily ruling out major investment in the East Coast Main Line in our region, as well as confirming it won't build HS2 to Yorkshire or the North East, and the Northern Powerhouse Rail plan seems to have been scaled back to a minor upgrade that is pretty much what was already promised – and not delivered – a decade ago. The Government has failed our region when it comes to ECML connectivity and I'm sure that everyone, including the business community and politicians from every party will feel as exasperated as I do on this.'
Meanwhile Cllr Louise Gittins, who is interim chair of Transport for the North, agreed with her colleagues on other councils, saying: 'Today's announcement is woefully inadequate. After decades of underfunding, the rail network in the North is not fit for purpose. It is largely twin-track Victorian infrastructure trying to cope with the demands of a 21st Century economy. Leaders from across the North and from across the party political divide came together to ask for a network that would upgrade the North for this century and in line with the rest of the country. Our statutory advice asked for an over £40 billion network but the Government has decided to provide even less than half of that.'
Labour leader Keir Starmer said: 'Yesterday, Boris Johnson admitted he crashed the car when it came to sleaze. Today, he has derailed the trains.

'He's taking the country absolutely nowhere.'
Reader Comments:
Views expressed in submitted comments are that of the author, and not necessarily shared by Railnews.
Years ago there was a goodish road from London to Yorkshire and beyond called the A1. This did not stop the Govt of the day from building the M1 from London to Leeds and beyond. Just like superimposing motorways on an already existing road system created capacity (who would be without that today) HS2 was designed to bring the rail system into the 21st century without ruining the existing service for ten years or more with upgrades. Remember WCML 20 years ago.

HS2 needed a review. For instance, it was incredibly wasteful to propose the East Midlands hub at Toton, only 3 miles from East Midlands Parkway, and yet fail to serve Derby and Nottingham directly. Much better for HS2 to go into EM Parkway, no doubt much expanded.

Similarly, it makes sense to review the necessity for both a completely new Northern Powerhouse line through the Pennines and a major upgrade of the existing main trans-Pennine route. Inevitably, the conclusion is that such duplication is unnecessary.

Sensible additional capacity is needed if the railways are to accommodate a major shift from road and air, which has to happen if environmental goals are to be achieved. Not included in the report, but surely near the top of the list, would be an upgrade and electrification of the Erewash Valley and Treeton lines, to provide flexibility and resilience by means of a shorter, less congested route to Chesterfield and more capacity on to Sheffield.

Leeds and Bradford have undoubtedly lost out, but HS2 to ECML destinations was always going to be circuitous from London. Birmingham can be reached via the trans-Pennine line and the HS2 Manchester branch, perhaps with the addition of a short bypass line to avoid having to enter Piccadilly station. Thus the report is right to conclude that most of the eastern leg of HS2 can be scrapped, provided of course that alternatives are put in place.

The most obvious alternative would be a significant upgrade to the ECML, with an ambition to provide even better capacity and timings than promised by HS2. This would be much better for West & North Yorkshire, and indeed the rest of the North-East, because of the shorter distance. Additional HS tracks would be on a diverted alignment where necessary - Welwyn, Stoke tunnel and Morpeth particularly, but also to form avoiding lines for Doncaster, Wakefield, York and Durham.

There are so many small things that could be done for pennies (relatively). On my own patch, lines from Meadowlall through Barnsley have several quite unnecessary speed restrictions, the first being 50mph on a 70 mph line past the site of th Old Quarry Junction. Lifting the formation and esing the curve would cure this. On the approach to Dodworth there is a 25mph restriction on a 50 mph line where the Merry-go-round connection to Dodworth colliery was reused. It unnecessapily slows the trains and causes lengthy delays at the following level crossing where the strike-in point is laid-out for 50mph. Passage through Horbury Jct. could be better arranged instead of meandering at 25mph through a ladder.. Worst of all is the Up line at Normanton. Here BR laid out a 60mph line in the late 1970s, Without any change at all the speed was restricted to 30mph after ihe installation of a foot crossing atter Normanto became an unstaffed halt. The foot crossing is no longer there.

Elimination of these trivial instances couldimprove journey times by around 5min.om both routes. I imagine such possibilities are not unique to these lines.


This may be good news as Euston HS looks capacity constrained (15 slots per hour ?) however if the ECML is to be upgraded there as a viaduct that needs fixing ie 4 track KX - Stoke tunnel is vital. A bypass for Morpeth is also vital. A York bypass would also save time. The aim should be London to Edinburgh in 3.30 with one stop at Newcastle. The Transpenine locals can interchange there. With 12 Inter City slots out of KX.

The government is boasting a £96bn investment, but can't get the positive message across. What's missing is the rest of Phase 2b and a Bradford service in the late 2040s and an offer to bring those schemes forward - if a cheaper or better proposal emerges. That could have been sold as an even bigger investment, with DfT's report setting out why they think a cheaper or better proposal might emerge and why they have chosen the above sequence of schemes.

Much of the necessary text is there - it just lacks the structure.

My solution for Bradford is to divert some of the ultimate "8 fast trains per hour" between Manchester and Leeds to a new tunnel from just north of Huddersfield. That should lead to a THROUGH 2 platform underground station just north of Bradford Interchange Station. The existing Bradford Foster Square electric services to Ilkley and Leeds via Shipley could then start at Manchester or Leeds (12 to 16 minutes away via the about to be electrified Pudsey line) or even Huddersfield instead.

Given the press leaks/briefings at the weekend the Govt shouldn't have been surprised at the near universal condemnation of the Integrated Rail Plan when it eventually saw the light of day. Perhaps they thought they could hide behind the 'spin' of the headline figure of £96 billion. Reality shows this to be the double speak to be expected from these political snake oil purveyors as much of this is already committed or planned for HS2 and little new money is on offer.

North of England leaders are battle scarred by the failure of central government to match fine words with physical progress on the ground. Just look at descoping of WCML modernisation through Stockport & the deferment/cancellation of the overdue Castlefield corridor enhancements. While completion of Trans Pennine electrification is to be welcomed just like Midland Main Line this is a project that has been marred by a stop/go approach that with luck will be archived a decade later than originally promised. And even when completed will lack some of the synergies that would release improvements to non inter city service groups.

Where though is the strategic vision to address the fundamental shortcomings of the existing network? While Trans Pennine Express has built a core inter urban network it remains constrained by having to coexist with frequently stopping commuter services. Also the Trans Pennine network has never fully encapsulated the northern inter urban market. This may have been partly addressed by Northern's Connect services but these too face the same capacity constraints. While being equipped with modern trains both these networks are unable to fulfil the full potential potential too often resulting in sub steam era timing & performance.

What effect will the descoping of HS2 beyond East Mids Parkway now have on the overall business case? Bear in mind that while many see this as a London centric project once beyond Birmingham these exists scope for traffic currently handled by Cross Country to migrate to HS2 in turn freeing up capacity on the historic network.

Strategy implys long term vision. As ever though with rail policy short term financial expediency wins and as the Govt should by now have rumbled their election rhetoric isn't being matched by their stated commitment.

Two questions:
1 - Is it true that £56 Billion of the £96 Billion now announced is "already earmarked for HS2"?
2 - How much of the remaining £40 Billion has been announced previously?

I think we can work out how much is actually new!

This proves that Grant Shapps simply doesn't understand HS2 and that it's not just about speed !

For example if Regional Eurostar begins Manchester will be able to get the present generation of Eurostar trains but because of Shapps Gap Leeds won't as their will be bridges and. Other infrastructure too low for Eurostar trains which are now taller than domestic ones!

Anyway it's a fuss about nothing given this government will be long gone and a new government can reinstate the missing piece in the middle and even look at extending HS2 to Hull as a mixed use railway for HS2 , NPR , ECML and freight trains on a line with sections of 4 tracking!

The important thing is the London to Manchester route is being delivered which is more like WCML2 providing a straighter railway compared to the wibbly wobbley WCML .

As for the ECML well upgrades of sections and introduction of 140 mph Azuma trains should reduce journey times . I did read that the Selby diversion was built to allow 160 mph which raises the question as to what top speed Azuma trains are able to run as even 150 mph would cut minutes from journey times

The plans are not to be scoffed at. The new line between Warrington and Marsden links to Liverpool in the west via the reopened/upgraded Fiddlers Ferry line, and to Leeds via newly 4-tracked Huddersfield-Dewsbury. (It is unclear whether a new tunnel is planned at Standedge, or making use of the disused ones, obviously with extensive repairs etc.?) The only Achilles heal is that the last 10 miles into Leeds will be on hugely congested twin track railway, so the HS Manchester services may as well call at Dewsbury. (Good place to invest in property!)

EasyJet, the British-based budget airline, has pledged to develop a fleet of electric planes to cover short-haul routes by 2030, which would effectively reduce carbon emissions and noise from its operations. The first phase of HS2 is due to open to Birmingham in 2033. Citroen has announced that it will sell a small, 2.41 metre long electric car that has a top speed of just 28mph for around £5,000 in the UK. Transport development is moving so fast that the Rail plans for the North will probably be revised many times in the next decade. Rail, I am sure, has got to go for upgrades that can be done in a few years, rather than decades.
[Just a thought, Tony. Irrespective of the source of power used, aviation continues to be time-consuming for short haul because of the lengthy formalities at airports and the fact that they are not in city centres. The existing West Coast trains have already taken the lion's share of the air/rail market between London and Manchester. When HS2 reduces the journey time by almost another hour it would surely be game over for planes on that route.--Ed.]

What gets to me is the hypocracy of the media, the BBC in particular. As soon as there's been any mention of HS2's eastern leg it's off out to the anti's of a Mexborough housing estate where you'd think it was going to flatten great swaithes of it.Then yesterday, 'oh they're letting the north down it's got to be built' raking up all and sundry who I don't remember making much of a fuss before.
Then the Manchester Evening News who are getting HS2 and they've now most of the commuter lines under wires now so where's their grouse coming from?
I can see why the 'new route' to Marsden from Manchester stops there because, now living in Yorkshire, they're up against the old Yorkshire public bodies addage of 'the only decision ever made is not to make one' or so it seems. Will the trams in Leeds ever arrive, only if somebody outside the place takes charge to my mind.
Finally, those celebrating on the BBC re the Mexboroiugh estate, my understanding is that the route is to be safeguarded....10 years later again?