Posted 18th November 2021 | 3 Comments
Part of HS2 scrapped in Integrated Rail Plan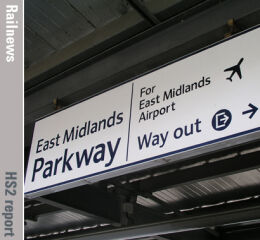 Transport secretary Grant Shapps has confirmed a budget of £96 billion for his new Integrated Rail Plan.
He said the plans for HS2 had been designed 'in isolation from the rest of the transport network', and the eastern leg of HS2 will now go no further than East Midlands Parkway, but the DfT will remain 'open to additions', and continue to investigate how HS2 trains can reach Leeds.
However, a new high speed line will be built from Warrington to Manchester and on to the 'western border of Yorkshire'.
The Midland Main Line and the Transpennine Main Line will both be electrified, while the East Coast Main Line will be upgraded with track improvements and digital signalling, which should allow line speeds to be increased over some sections to 140mph/225km/h, shortening journey times to stations between London and Edinburgh.
Journey times on other routes will also be reduced so that, for example, the time between Birmingham and Nottingham will be cut from 75min to 26min.
There will be a new 'mass transit' scheme for Leeds, effectively reviving the Supertram scheme which was first proposed in the last century and provisionally approved by the government in 2001, although approval was withdrawn five years later and the plans abandoned.
£360 million has also been confirmed to extend contactless ticketing to hundreds of stations outside London, including 400 stations in the north.
Mr Shapps said: 'This plan will bring the North and Midlands closer together. It will rebalance our economic geography. It will give passengers in the Midlands and North the service they need and deserve.'
Labour shadow transport secretary Jim McMahon responded: 'This is a betrayal of trust. A massive blow for our regions. He promised HS2 to Leeds. He promised Northern Powerhouse Rail. He promised the North would not be forgotten. He hasn't just forgotten us – he's completely sold us out.'
Reader Comments:
Views expressed in submitted comments are that of the author, and not necessarily shared by Railnews.
This demonstrates how Grant Shapps has no qualifications for the job given that HS2 is about building a rail network to larger continental gauge to allow larger trains as used around the world including duplex double decker trains to operate in the U.K. .

These plans will allow the current Eurostar trains to run to Manchester but not to Leeds because they will come face to face with " Shapps Gap !" with Bridges and tunnels to small to run through!



With business demand and commuting demand still at less than half 2019 levels, just be grateful for any investment. Tough times lie ahead in terms of traincrew cuts on suburban routes, including London Underground, where there will never again be a need to run anything like 2019 frequencies. Let's face reality. Be grateful long distance leisure demand has bounced back.

No surprise here then. This is the governments leveling up then?