Posted 2nd November 2021 | 2 Comments
Salisbury train crash: police keep 'open mind'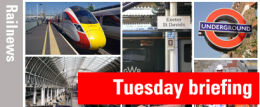 Salisbury train crash: police keep 'open mind'
The reported circumstances of the collision between two trains in a tunnel on the up side of Salisbury station on Sunday evening have now changed, and original reports that one of the trains had been derailed by an object on the line have been discounted.
It has also emerged that the driver of one of the trains was more seriously hurt than was first thought, and his injuries are now being described as 'life-changing'. His condition in hospital is said to be stable.
A major investigation is under way at the crash site, and British Transport Police have warned that it may not be possible to move the trains for several days yet. The Rail Accident Investigation Branch said it has a team of five inspectors at the scene.
The derailment inside Fisherton Tunnel is now said to have occurred after the collision, rather than before it. BTP said: 'Both trains were travelling in the same direction and one train struck the side of the other, causing it to derail whilst in the tunnel.'
Detective Chief Inspector Paul Langley of BTP explained: 'Specialist officers and detectives remain on scene in Salisbury and we are working closely alongside the Rail Accident Investigation Branch and the Office of Rail and Road to establish exactly how these two trains came to collide. We are keeping an open mind but at this early stage there has been nothing to suggest the train struck an object or that there was any significant delay between the trains colliding and then one derailing.'
Island Line reopening welcomed
Politicians on the Isle of Wight have welcomed the return of trains on the Island Line. The first train left Ryde St Johns at 05.35 yesterday morning, although trains will run every hour for the time being, which is half the predicted frequency. MP Bob Seely told the Island Echo: 'When I was first elected in 2017 the future of Island Line was uncertain. Thanks to a team effort of local campaigners, members of the previous council administration, and myself, we persuaded government to underwrite this investment. I am grateful to South Western Railway and the government for listening to us and I am glad to see the upgrades finally come to fruition.'
Reader Comments:
Views expressed in submitted comments are that of the author, and not necessarily shared by Railnews.
[Isle of Wight reopening] Well true to the promises the odd 40 minute interval service has been eliminated (albeit 7 months later than promised) with an improved 60 minute interval service. Ah, progress !