Posted 7th October 2021 | 6 Comments
Prime Minister pledges Northern Powerhouse, but no mention of HS2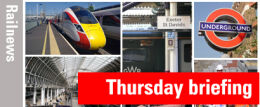 Prime Minister pledges Northern Powerhouse, but no mention of HS2
Boris Johnson has told his party's conference that the cities of the midlands and north will be 'linked up', and that 'we will do' Northern Powerhouse Rail, but he did not mention the fate of the eastern leg of HS2. He said: 'We will do Northern Powerhouse rail, we will link up the cities of the midlands and the north, we will restore those sinews of the union that have been allowed to atrophy, the A1 north of Berwick and on into Scotland, the A 75 in Scotland that is so vital for the links with northern Ireland and the rest of the country.'
Earlier this week, transport secretary Grant Shapps told a fringe event at the Conservative Party conference in Manchester that 'when HS2 was first thought about, we didn't have Northern Powerhouse Rail, we didn't have the Midlands Rail Hub. A lot has changed'. His remarks were interpreted as a strong hint that the eastern leg is set to be postponed or even abandoned, but he also said that the details would be included in his Department's forthcoming Integrated Rail Plan.
However, the Prime Minister's pledge about Northern Powerhouse Rail has been welcomed by Transport for the North's director of Northern Powerhouse Rail Tim Wood. He said: 'It was good to hear the Prime Minister say that the greatest challenge for the country was levelling up its economy and its society and that building Northern Powerhouse Rail was central to that. Like us, he recognised that poor rail links across the North are contributing to the national imbalance in our economy and called transport "the supreme leveller-upper". We have worked collaboratively with the Government over the past two years to come up with a blueprint for a new rail network that will free the North from the constraints of poor infrastructure that have held it back for far too long. We need now to make this NPR a reality. We stand ready to work with the Government to deliver for the North and for the whole country.'
Reader Comments:
Views expressed in submitted comments are that of the author, and not necessarily shared by Railnews.
So he wants the Northern Powerhouse project to happen. But he will not mention about HS2 including the HS2 Phase 2 and Eastern Leg. I think he wants railway lines in the North of England to be improved. Including signalling, station improvements, track maintenance, electrification and more extra trains for smaller lines that needs more extra services.

When the original HS2 route was produced it was to mainly relieve the WCML by creating a WCML2 to provide extra capacity by providing a new route for long distance services thus freeing up capacity on the existing network for more local, regional and freight services. The Eastern leg was basically a way of linking MML and ECML into HS2 at a time both lines were served by 125 mph trains.

Since then we have seen new trains introduced on the ECML capable of 140 mph with plans for similar trains on the MML meaning that once signals and track have been upgraded the time saving promised by linking to HS2 will be reduced and given extra distance won't be as economical as a decade ago .

Since which we have seen Northern Powerhouse Rail developed with an west to east route across the north aimed at cutting journey times on routes which currently have lower top speed than north to south routes.

While NPR depends on sections of HS2 it may not depend on the eastern leg and building both may not be affordable!



As every heavy on aspiration vague on detail, funding & delivery.

As currently authorised & funded HS2 will free the WCML of the burden of handing long distance inter city services enabling the existing infrastructure to be repurposed for the growing number of intermodal freight services feeding the core Midlands & Northern distribution hubs as well as using the released capacity to breath new life into the local urban & inter urban passenger services.

So much now rests on what the DfT's Integrated Rail Plan proposes. To have any value it must address the opportunity of HS2's eastern leg to absorb ECML & MML intercity services plus the role played by cross country where applicable north of Birmingham enabling the traditional network's capacity to be repurposed for the aspirations of Northern Powerhouse & Midlands hub.

Over the past couple of decades plenty of consultation documents have fed into strategic planning. Decision time can't come too soon but this has to be backed by a reliable funding stream otherwise all we have is hyperbole & hot air and let's face it given the number of time these schemes have been announced we're well used to that.

Local eastern arm politicians seem to me to have concentrated on keeping up momentum on HS2 rather than getting the Eastern Arm of the project right.

Greengauge 21 published a report earlier this year which said

"A shift in mindset is needed following the National Infrastructure Commission's report... capacity and connectivity gains [for] the North and Midlands... can be delivered better and sooner with a careful blend of electrification and upgrading of existing lines alongside some better thought out high-speed line construction.

"the problems of current HS2 designs in city centres generally preclude HS2 services being extended onwards over existing lines."

National politicians seem to agree with those sentiments. Local eastern arm politicians should have tweaked the scheme 6 months ago.

It's BoZo Johnson ...
How can you tell when he's lying?
That's right, his lips are moving