Posted 28th September 2021 | 2 Comments
Southeastern renationalised after 25m pounds 'contract breach'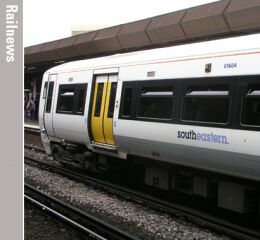 THE Department for Transport is to renationalise Southeastern by transferring the contract to the Operator of Last Resort. It will be the third former franchise returned to full public control.
The DfT says Southeastern did not declare over £25 million of taxpayers' money. This amounted to a 'significant breach of the franchise agreement, undermining trust.'

An investigation had found evidence that since October 2014 Southeastern's operating company London & South Eastern Railway Ltd, a subsidiary of Govia, had not declared over £25 million of 'historic taxpayer funding which should have been returned'.
The government says the changeover will take place on 17 October when the present contract with Govia had been due to end in any case, but the DfT has promised that there will no changes to Southeastern's tickets, timetables or fares. No frontline jobs will be at risk.
Shapps: 'Clear, compelling, serious evidence'

Transport secretary Grant Shapps said: 'There is clear, compelling and serious evidence that LSER have breached the trust that is absolutely fundamental to the success of our railways. When trust is broken, we will act decisively.
'The decision to take control of services makes unequivocally clear that we will not accept anything less from the private sector than a total commitment to their passengers and absolute transparency with taxpayer support.
'Under the new operator, we will prioritise the punctual, reliable services passengers deserve, rebuild trust in this network, and the delivery of the reforms set out in our Plan for Rail – to build a modern railway that meets the needs of a nation.'
The DfT has already taken back the former Virgin Trains East Coast and Northern franchises, which are now run by the Operator of Last Resort, while other train operators in England are no longer franchises but contractors as a result of changes last year. Welsh railways have been renationalised as Transport for Wales, and the ScotRail contract currently owned by Abellio is to be renationalised in March.
Go-Ahead Group apologises as shares plunge
Govia is a joint venture between the British Go-Ahead Group, which has 65 per cent and French Keolis, which owns the remaining 35 per cent.
In a statement, Go-Ahead Group said: 'Although the independent review is ongoing and the contracts concerned are highly complex, the Group acknowledges that errors have been made in relation to the franchise. The Group has repaid the £25 million referred to in the DfT's statement of this morning and will provide a detailed update on further liabilities in its full-year results.'
Go-Ahead Group's chairman, Clare Hollingsworth added: 'It has always been this Group's intention to provide the best possible public transport, and to work in partnership with the Government and related agencies. We recognise that mistakes have been made and we sincerely apologise to the DfT. We are working constructively with the DfT towards a settlement of this matter.'
Go-Ahead had been due to announce its profits for the year ended 3 July on 30 September. The Group said the announcement had been postponed.
At 09.15 this morning ordinary 10p shares in Go-Ahead had fallen by 15 per cent since the start of trading at 07.00 to stand at 871p, compared with their opening price of 980p. After a brief partial recovery the price fell still further during the morning, and just before midday it was down by 21.76 per cent, at 798.50p. The downward slide continued into the afternoon, and by 13.40 the price was 778p, down 24.1 per cent on the day. By 15.30 more than a quarter had been wiped off the value of Go-Ahead, with its shares down 25.12 per cent at 767.50p.
Union calls for Fraud Office probe
The RMT has called for a Fraud Office investigation into what it described as 'Britain's rail franchising racket'. The union's general secretary Mick Lynch said: 'For years RMT has said that the private railways in Britain have been run by a gang of spivs trousering hundreds of millions of pounds of taxpayers money with impunity while services were left to rot. Today's announcement on Southeastern proves we were right all along.
'We do not believe for a moment that this scamming of the British people is restricted to Southeastern. There now needs to be a forensic examination of all the private rail contracts with those caught cooking the books called to account. It defies belief that even after this scandal was exposed that Govia are still running UK rail services. They should be kicked out and the whole network should be brought into public ownership.'
Reader Comments:
Views expressed in submitted comments are that of the author, and not necessarily shared by Railnews.
This is quite astounding!
For seven years the DfT did not realise that £25,000,000 that they had paid to Govia for something to be done had not ben spent on doing it. Clearly, nobody went and looked!
For seven years Govia did not realise that they had £25,000,000 sitting in their accounts when it should have been spent.Clearly, Govia's auditors did not think it necessary to query the spare cash in the accounts.
There are so many questions to be asked here but no doubt we will never know the answers.
Finally, is this an isolated incident or are there others waiting to be discovered?
Have Your Say