Posted 27th August 2021 | 4 Comments
RMT threatens national industrial action over service cuts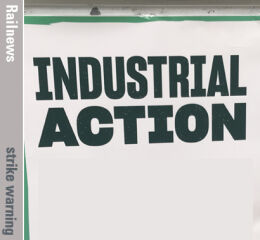 THE RMT says it is adopting a 'war-footing' in its 'campaign against a cynical and opportunist wave of post-Covid cuts to jobs and services on Britain's railways'.
The union is predicting that service reductions planned by ScotRail and South Western Railway 'are set to be mirrored across the network'.
Conductors on ScotRail have voted again this week to continue their Sunday strikes in a dispute over pay for rest day working, while train managers on East Midlands Railway are striking on Sundays in August and September as they continue industrial action in their dispute over safety on Class 360 trains. Senior conductors on EMR have also been striking at weekends in a separate dispute over pay and conditions.
RMT general secretary Mick Lynch had said: 'RMT believes that the Class 360 method of working that the company has imposed is not safe and that a second safety-critical person, preferably a train manager, should be in each portion of the multi-unit trains.'
EMR said it was 'extremely disappointed', but added: 'We have robust contingency measures in place and will continue to run the vast majority of our advertised timetable on Sundays throughout the summer but we would encourage customers to check their journey before setting off.'
Meanwhile, the proposed service reductions on ScotRail and SWR have increased the industrial unrest.
Mick Lynch said: 'It is crystal clear that the planned cutbacks on both ScotRail and South Western Railway are just the tip of the iceberg as cynical employers use the cloak of COVID to smuggle through the decimation of jobs and services on Britain's railways.
'Not only do these planned cuts fly in the face of the Government's own statements on future rail usage they also a mockery of their green agenda as they will force more cars onto the road at the expense of environmentally-friendly rail travel.
'RMT will not sit back while this carve up of the rail network is cooked up in company boardrooms. We will be stepping up our campaigning and the union has moved on to an industrial war-footing as we recognise exactly what is at stake.
'If it means national industrial action on the railways to stop this carnage we are more than ready for that.'
Reader Comments:
Views expressed in submitted comments are that of the author, and not necessarily shared by Railnews.
[Message deleted. Breach of Railnews guidelines (reason: abuse).]

Most organisations know how to get their staff to work from home. The RMTs power to hurt others is now very limited. There is no need to hire fleets of buses and coaches - as was done during previous strikes - to get staff into work. The Railways face a very uncertain future. The RMT is just going to make recover of the Railways fortunes - if any - even further off.

Hilarious. The railway has been somehow getting by on a wholly unaffordable £1bn a month subsidy, to run mostly near-empty trains, and here come the RMT with their laughable and so predictable scrambling for a national strike. See if anyone cares when you strike. Pure delusion. How to kill union power, permanently. Bring it on! I'll hire a car to see the RMT finally defeated.