Posted 18th February 2021 | No Comments
HS2 starts search for main depot contractor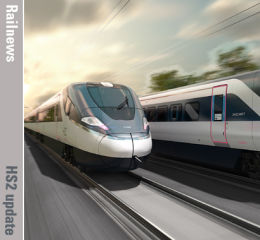 HIGH SPEED RAIL developer HS2 Ltd is inviting bids from contractors to build HS2's £275 million centrol control centre and principal depot at Washwood Heath in Birmingham. At least 54 200m high speed trains will be based there.
The site was last used by Alstom to build Pendolinos for the West Coast Main Line, but it was closed more than 15 years ago. The buildings were demolished last year.
The depot will include a 40,000 square metre rolling stock maintenance building, a carriage wash, an automatic vehicle inspection building and 14 sidings where trains can be stabled.
These facilities will share the site with the network integrated control centre, which will include the main control room as well as accommodation for drivers and other staff.
HS2 Ltd commercial director David Poole said: 'The start of the search for a contractor to build Washwood Heath is a real milestone for the HS2 project and a huge long-term opportunity for the area. With main works civils construction now well underway, we are putting the specialist team in place to support operation of the new railway.
'Washwood Heath will be at the heart of the operation – and around 500 high skilled jobs based at the depot will be a major boost for the community.'
Bidders are expected to be shortlisted for the single-stage design and build contract this summer, and the award is due in 2023.