Posted 12th August 2021 | 2 Comments
Essex councillors call for Underground link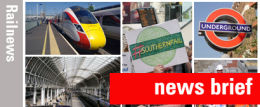 COUNCILLORS in Harlow are calling for a new Underground link, saying that they are examining 'all possibilities for improving and modernising transport connections'.
The idea is part of a Town Plan which was discussed at a council cabinet meeting last week.
Their proposal is to extend the Central Line from its present terminus at Epping, which would take the route almost due north for another five miles (8km).
The Central Line was extended progressively into Essex after the second world war, mostly using existing LNER infrastructure, and it eventually reached Ongar, which is some six miles (10km) east of Epping. The Epping-Ongar service was operated as a separate shuttle and was withdrawn by London Transport in 1994. The single track branch is now a heritage railway.
While the Ongar line was part of the Underground, the journey time from Ongar to Liverpool Street was almost an hour, allowing for a change of train at Epping (36min from Liverpool Street).
The average journey time on National Rail from Harlow Town to London Liverpool Street is just over half an hour.
Harlow Councillor Michael Hardware is portfolio holder for strategic growth. He said: 'With Harlow's close proximity to London our plans include investigating the potential for the extension of the central line to Harlow, lobbying to extend London Transport Zones to Harlow, examining connectivity to Crossrail 2 and promoting four tracking of the main line to Stansted Airport as well as improving existing public transport links in and out of the town.
'Our Town Plan, which will detail our ambitions, is being developed at present. A draft of the plan will be brought forwards within weeks and we will be involving the whole town in our vision with full consultation on the plan be held in the autumn. The draft plan will include our ambitions for levelling up transport infrastructure and much more besides.'

The draft Town Plan will be presented to the next Cabinet meeting in September.
Railnews has invited Transport for London to comment.
Reader Comments:
Views expressed in submitted comments are that of the author, and not necessarily shared by Railnews.
The cheapest plan would surely be to digitally signal the West Anglia Main Line and terminate the London Overground service at Harlow and Hertford East.