Posted 6th July 2021 | 3 Comments
Facemask uncertainty divides industry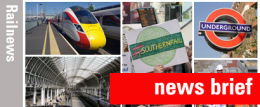 POSSIBLE changes to rules about wearing facemasks on trains and other public transport from 19 July have caused confusion.
In general, the requirement seems set to be scrapped, although that will be subject to confirmation on 12 July, but health secretary Sajid Javid has just signalled in a breakfast television interview this morning that transport operators and other businesses, such as shops, will be able to decide for themselves what the rules should be.
Two airlines, Ryanair and Easyjet, are reported to be keeping masks on their flights after 19 July, and the mayor of London Sadiq Khan wants them to stay on Transport for London services for now. Manchester mayor Andy Burnham also wants them to remain compulsory on the city's trams.
But no decision has been announced by National Rail operators, although the Rail Delivery Group has said it will 'support' passengers who choose to keep wearing them in any case. The RDG said: 'Trains should be treated consistently with other indoor settings when it comes to the removal or ongoing use of restrictions.
'Travelling by train is low risk and carriages are well ventilated with air regularly refreshed either by air conditioning systems, or by doors and windows being opened, so any decision to leave public transport behind other parts of the economy would need to be based on the science.'
RMT general secretary Mick Lynch said that 'yet again there's a real danger of the Government making up policy on the hoof on critical issues', while his colleagues in the union Unite wants face coverings to stay.
Unite's national officer for passenger transport Bobby Morton said: 'To end the requirement to wear masks on public transport would be an act of gross negligence by the government.
'The idea of personal responsibility and hoping that people will wear masks is absolutely ridiculous.'
Reader Comments:
Views expressed in submitted comments are that of the author, and not necessarily shared by Railnews.
It's been an observation on my part that what do people do when removing the face covering? It could have a concentration of the virus thereon. Do people wash their hands afterwards, have sanitiser to hand or just fold them up and place them in a pocket etc. Is it even practical in all cases? Put mask on then push button to open doors on train when train arrives, with fingers, after handling same.
No, prior to the obligation to wear face coverings I found people were generally according with the 2 metre social distancing rule but once they became compulsory that went by the wayside for a good few. A sense of false security perhaps? Mixed blessings I fear.

It's the legal requirement with the risk of a fine if not wearing a face mask that should be repealed.

After all what's the point of wearing a mask if you are the only person in a carriage while groups packed into far smaller cars have never been compelled to wear masks !