Posted 1st June 2021 | 5 Comments
Government agrees TfL funding deal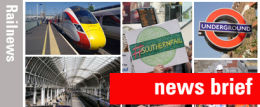 Updated 10.52
AN EXTENSION of financial support for Transport for London has been agreed with the government after days of 'extremely tough' talks.
The new deal runs until 11 December 2021 and is worth at least £1.08 billion, but may be increased if passenger revenues are lower than expected.
Transport commissioner Andy Byford said: 'The pandemic – during which our staff have worked so magnificently to keep London moving – has shown our financial model, with such a disproportionate reliance on fare revenue, to be not fit for purpose.
'We are working hard to rebuild revenue through attracting people back to our services with nearly 60 per cent of pre-pandemic ridership already travelling again.'
The Mayor Sadiq Khan described the negotiations as 'extremely tough'.
He said: 'I have tried to build bridges with the Government as this is in the best interest of Londoners and our businesses, but I want to be honest with Londoners: this is not the deal we wanted, but we have fought hard to get it to the best place possible and to ensure we can continue to run vital transport services at this crucial time for our city.
'After some extremely tough negotiations, we have successfully managed to see off the worst of the conditions the Government wanted to impose on London, which would not only have required huge cuts to transport services equivalent to cancelling 1 in 5 bus routes or closing a Tube line, but would have hampered London's economic recovery as well as the national recovery.
'The Government is still insisting that TfL look at options to raise a further £500 million to £1 billionn of revenue per year by 2023. I have been clear to the Government that there are very few options to do this and forcing TfL to impose draconian additional measures on London would be unacceptable. So I will continue to work with the Government to identify an appropriate source of funding. But I am hopeful that as London bounces back from the pandemic, and income from fares continues to increase, we'll be able to avoid introducing any unfair measures on Londoners, as the additional fares revenue may be able to meet Government demands.
'TfL is also being forced to undertake some early development work on the business case for driverless trains. However, I've made it crystal clear to Ministers that we will object to any future requirement to force TfL to implement driverless trains on the London Underground. It would cost billions of pounds and would be a gross misuse of taxpayers' money at this critical time for our country.
'This short-term settlement is yet another sticking plaster so I will seek to work with the Government over the months ahead to agree a longer-term funding deal for TfL that is both fair and right for Londoners and the whole country.'
RMT general secretary Mick Lynch responded to the news by saying: 'This is a disgraceful stitch up of a deal and it will be resisted by our members whether it comes from Whitehall or City Hall through London wide industrial action if necessary.
'It is completely unacceptable for transport workers who have risked and in some cases tragically lost their lives to now be asked to pay this political price for the coronavirus.
'Attacks on workers' pensions are wholly unacceptable while driverless trains are unwanted, unaffordable and unsafe.
'With funding only lasting until December London is being held to ransom.'
Reader Comments:
Views expressed in submitted comments are that of the author, and not necessarily shared by Railnews.
Driverless trains are great idea! It will stop all these strike by the RMT!

I understand that TfL have committed to producing a business case for introducing driverless trains on the Piccadilly & Waterloo & City lines.
The W&C case needs to consider reprofiling Docklands units to fit the gauge, removing the third rail (to allow for evacuations) and providing frequent emergency access points. It's quite shallow.
Extra accesses could be extra stations including one at Blackfriars and ideally an extension to Millbank or Marsham Street. Any of those extra stations would generate more ridership than the Emirates cable car.

If driverless trains are unsafe, why aren't there regular accidents on the Docklands Light Railway?
[It is not collisions which are the main risk, but evacuating passengers safely. Driverless metros including the DLR are designed to allow this. There is no room in the tunnels of a conventional London tube railway, such as the Piccadilly, to allow any space alongside the train for an escape route. Enlarging the tunnels would be fantastically expensive, if it could be done at all, and probably disrupt the service for years.--Ed.]

I see nonsense of driverless underground still continues so Mayor should demand funding for full funding of signalling upgrade of Piccadilly Line as a starter !

As for raising more revenue then reintroduced western congestion zone seems simplest solution especially if infrastructure for cameras which enforced zone is still in place beneath the streets .

While reintroduction of bendy buses could reduce bus operating costs as fewer buses are needed to provide greater capacity.