Posted 20th May 2021 | 9 Comments
Radical reforms lay foundation for 'modern, green railway'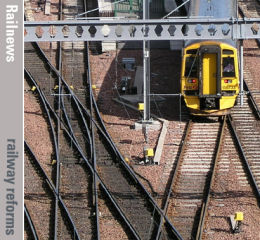 ►

Concessions will replace franchises
►

New industry body to absorb Network Rail
► Fares shakeup includes part time seasons
► White Paper presented to Parliament


Updated 20 May, 16.15


THE long-delayed reform of the railways has begun, with confirmation from the Department for Transport that franchises will be replaced by concessions, and control will be given to a new public body to be called Great British Railways.

The details, which have been worked out by former British Airways CEO Keith Williams and transport secretary Grant Shapps, were presented to Parliament in the form of a White Paper on Thursday.


Network Rail and its infrastructure responsibilities will become part of GBR, which will collect revenues from fares, manage the concessions and also decide most fares and timetables. The first two-year National Rail Contracts have been announced, while Community Rail Partnerships could also become operators for the first time.


GBR will lead a restructuring of fares, including new flexible season tickets and a significant development of more convenient Pay As You Go, contactless and digital ticketing on smartphones. A single compensation scheme for operators in England is intended to provide a simple system so that passengers can retrieve information and apply for refunds.


It appears to be the end of the line for the present National Rail Enquiries website. This will be replaced by an online service run by GBR, which will provide train information and sell tickets.

Neither is it clear what part might be played in future by the Rail Delivery Group. However,
RDG director general Andy Bagnall said: 'Train companies have long called for many of the reforms in this white paper and these proposals can deliver the biggest changes in a generation.

'Getting the detail right will be crucial to ensuring that the white paper fulfils its potential to improve journeys, offer independent oversight and clear accountability, and create a new set of fares which are simpler and more value for money.

'For our passengers, we are ambitious to move quickly and work with government so that we can attract people back on to trains with better services and maximise the railway's contribution to the recovery.'


The Department for Transport said the reforms would support a 'financially sustainable' railway as the country recovers from Covid-19. New contracts will be 'focused on punctuality and improved efficiency' making it easier and cheaper to plan maintenance, renewals and upgrades.


The DfT has also moved to quash any suggestions that the changes amount to renationalisation, saying that 'there will remain a substantial, and often greater role, for the private sector'.


It continued: 'The new Passenger Service Contracts will include strong incentives for operators to run high-quality services and increase passenger numbers. They will not be one-size-fits-all: as demand recovers, operators on some routes, particularly long-distance, will have more commercial freedom. Affordable walk-on fares and season ticket prices will be protected.'


Prime Minister Boris Johnson said: 'I am a great believer in rail, but for too long passengers have not had the level of service they deserve.


'By creating Great British Railways, and investing in the future of the network, this government will deliver a rail system the country can be proud of.'


Transport secretary Grant Shapps added: 'Our railways were born and built to serve this country, to forge stronger connections between our communities and provide people with an affordable, reliable and rapid service. Years of fragmentation, confusion and over-complication has seen that vision fade, and passengers failed. That complicated and broken system ends today.


'The pandemic has seen the Government take unprecedented steps to protect services and jobs. It's now time to kickstart reforms that give the railways solid and stable foundations for the future, unleashing the competitive, innovative and expert abilities of the private sector, and ensuring passengers come first.


'Great British Railways marks a new era in the history of our railways. It will become a single familiar brand with a bold new vision for passengers – of punctual services, simpler tickets and a modern and green railway that meets the needs of the nation.'


Keith Williams, the chair of the Williams Review, said: 'Our Plan is built around the passenger, with new contracts which prioritise excellent performance and better services, better value fares, and creating clear leadership and real accountability when things go wrong.


'Our railway history – rich with Victorian pioneers and engineers, steam and coal, industry and ingenuity – demands a bright future. This plan is the path forward, reforming our railways to ensure they work for everyone in this country
.'


The DfT added: 'In the short and medium term, we will work closely with the sector on measures to encourage passengers back to rail. To reflect changes in the traditional commute and working life, the Government has announced that a new national flexi season ticket will be on sale this summer, with potential savings of hundreds of pounds a year for two and three day-a-week commuters. Tickets will be on sale on 21 June, ready for use on 28 June.


'The new Passenger Service Contracts will also help to build a more financially stable industry. By removing barriers to new market entrants, including by no longer basing competitions on complex and uncertain revenue forecasts, private operators will be challenged to provide a competitive and customer-focused offer, delivering greater value-for-money for the taxpayer.


'Local communities will work closely with GBR on designing services, with local leaders given greater control over local ticketing, timetables and stations. The new model will encourage innovative bidders, such as Community Rail Partnerships who want to bid for the GBR contract to operate their local branch lines.


'New National Rail Contracts will be announced this year. These contracts will be in operation for two years and act as a bridge to reform.'


Reaction has already been coming in.

ASLEF general secretary Mick Whelan said: 'The railway is a key artery in the industrial body of Britain and the social fabric of this country.
'That's why it is deeply disappointing that we have had to wait 18 months for the publication of a report which was finished in November 2019. The people who work on the railway – and the passengers and businesses who depend on us – deserve better.
'We welcome the – albeit belated – admission that the privatisation of our railways by John Major's Tory government in 1994 has been an abject failure. Everyone is delighted to see the back of the franchise system.
'The big question is why are private operators still involved in what is, and will always be, a service monopoly where there is, and can be, no real competition? The old arguments of "risk and reward" don't apply. There are no risks, so why should there be rewards?'
Reader Comments:
Views expressed in submitted comments are that of the author, and not necessarily shared by Railnews.
Franchising made sense in the 90's to inject money and innovation into a long stagnant industry. I have long argued that concessions for local services made sense and more competition for intercity routes (maybe Open Access).

I suppose it'll come out in the wash as to how well this is managed, but on first viewing it seems positive.

Centralising distance sales and refunds could be viewed as uncompetitive but lets wait and see...

The main job short term is to get passengers back onto rail so with summer coming perhaps we should look again at the way Chris Green got passengers onto Network Southeast with his £5 adults /£1 children go anywhere tickets on weekends. Tickets could be issued for regional networks to encourage Londoners to visit to the coast and those outside London to visit London thus boosting the service industry's which have suffered so much and are unlikely to get many foreign tourists this year .


I reckon we need to transfer more regional networks to Regional Mayors giving them ownsership of Stations while in London which has run its own underground network since 1863 perhaps some lines could be transferred completely to TFL !

They can start by replacing the seats on the GW & LNER IEP's particularly if the seats specd for EMT are better. Secondly improve the catering I don't mind paying extra if its good who doesn't remember GNER's dinners with fondness. Lastly they should speak to JCB about their new hydrogen internal combustion engines, they could be a quick fix to reduce emissions of current trains while getting on with the long over due electrifciation of the network.

I think its a case of 'wait and see'. We don't know what number of passengers will return and what routes they will use. Problems like over-crowding of trains into London may resolve itself if numbers decrease, but that was always one of the network's major problems. There was no more that could be done to put more trains on or add more rolling stock because the lines were full much of the day. Tickets were certainly confusing and ticket machines didn't give you the full range either - such as group travel for 4 people. Lets also remember that when John Major privatised the Railways he told Parliament it was 'to manage decline'.

As ever the devil will be in the detail. Only time will now tell if they will lead to the dismantling of the bureaucratic structure created to support the privatised railway that has led to so much duplication resulting in a bloated cost base that has blighted the railway for so long. If this overhead cost can be genuinely stripped out the railway then a more cost efficient operation may result.

The immediate challenge for the railway will be recovery from the pandemic. If one thing that has been learned is that through necessity timetabling can be nimble & quickly react to dynamic circumstances. A major failing of the franchise model was inflexibility created by the stringent contract conditions placed on the holders. An interesting question for the new railway will be how adaptive it can be to changing demand and also how innovative it can be at exploring new service opportunities. Too many services, especially at the fringes of the network, have been locked in state of stasis for far too long.

Digital ticketing technology has been around for years now however the industry has been slow to appreciate it's full potential. For too long the franchisees have been locked in their own fiefdoms protecting their own revenue flows. Again the pandemic has accelerated the adoption of new technology. While the cry is always for fare simplification modern marketing techniques present the opportunity to make rail travel more accessible by offering seamless booking & ticketing options. Let us hope that in the push for simplification the industry does not loose the will to generate the initiatives that drive the fare box income that it requires to maximise.

The fact that the franchising system did not work really does not seem like justification for a half baked return to the BR days. Innovation is an anathema for state-run operations and the prospect of civil servants managing the rail industry should worry us all. And where does rail freight fit into all of this?

As an additional point, the railway has always been 'green' compared with other modes so the constant carping from government types about environmentalism is frankly ludicrous.
[Freight: to quote from today's White Paper: "Freight is already a nimble, largely private sector market and will remain so. It will benefit from national co-ordination, new safeguards and a rules-based access system that will help it to grow and thrive."--Ed.]

Overall, the proposals seem sensible, if long overdue. The idea of allowing Community Rail Partnerships to operate local branch lines is particularly welcome.
However, we should remember that it was John Major's Tory government that got us into this mess in the first place. Johnson and Shapps should remember that, if they are tempted to claim the credit for this new structure.

In contrast to full nationalisation, the use of concessions allows the government to specify (far) fewer peak services - given commuting demand will be lucky to get to 50% of 2019 levels - and pass the buck to the private operators to deal with inevitable cuts in traincrew.