Posted 4th May 2021 | No Comments
RMT confirms East Midlands Railway strike dates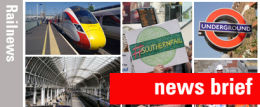 STRIKES of senior conductors have been called by the RMT on East Midlands Railway, in a dispute over pay and hours.
Three 24-hour walkouts are set to be staged on Sundays 16, 23 and 30 May. The last of these would be over a bank holiday weekend.
The union, which said there had been a 'second well supported industrial action ballot', said 'East Midlands Railway have imposed different contracts that include a reduction of £5,500 in the first year of employment and are also rostering additional hours expected to be worked that are explicitly against the terms and conditions.'
RMT general secretary Mick Cash said the union had 'no choice'.
East Midlands Railway managing director Will Rogers said: 'This is the wrong decision for the East Midlands and the towns, cities and communities we serve.
'At a time of national crisis, when the Government is paying billions of pounds to keep trains running and protect jobs; this decision damages our ability to support the East Midlands recovery from the Covid pandemic and attract people back to the railway and public transport as a whole.
'Our revised offer was fair; not only did it resolve all areas of the dispute that EMR inherited from the previous franchisee, but it also addressed other key areas that Union representatives told us were important.
'It was the result of nearly 18 months of ongoing collaboration and negotiations with appointed representatives and was an improvement on an offer which was verbally accepted in principle by local representatives previously.
'Nonetheless, the RMT has chosen not to provide any direct feedback to explain why they have rejected the offer.'
Have Your Say