Posted 30th April 2021 | 2 Comments
Ticket examiners join ScotRail walkouts from Sunday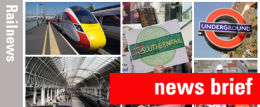 THE RMT has confirmed that strikes of ScotRail conductors and ticket examiners in two separate disputes over payments for rest day working will go ahead on Sunday.
Unless an agreement is reached further Sunday strikes are set to follow during May, and the union has also warned that it is about to start balloting its members in engineering grades over the same issue.
RMT general secretary Mick Cash said: 'It is frankly appalling that once again Abellio have resorted to launching attacks on their hard-working staff on social media this week rather than agreeing to talks aimed at resolving this long-running dispute over pay equality across ScotRail grades.
'There has also been a deafening silence from the political leadership in Scotland who are more interested in electoral photo opportunities than they are in putting pressure on Transport Scotland and the ScotRail operators to play fair by their staff out there on the frontline throughout the Covid pandemic.'
The dispute was triggered by an agreement between ScotRail and ASLEF over improved rest day payments for drivers, and conductors have already staged five 24-hour Sunday strikes over the issue.
ScotRail head of customer operations Phil Campbell said: 'The RMT's strike action is wrong and will have a significant impact on customers who are returning to the railway as lockdown eases.
'At a time when we need to attract people back to the railway to recover the business and secure jobs, the RMT's damaging actions will turn people away.
'Industrial action will have no impact on ScotRail's position on 50 per cent overtime pay increases for no additional hours worked, given the severe financial challenges we face.
'We will do everything we can to minimise the consequences of this action, but customers who are trying to get back to some form of normality will be affected.'
Reader Comments:
Views expressed in submitted comments are that of the author, and not necessarily shared by Railnews.
You have to wonder why, in the 21st Century, rail is still relying on rest day working to schedule Sunday shifts. Shouldn't this have been dealt with in terms of employment years ago?
And of course there's no word from the politicians Mick. With the massive government bailouts to the rail industry due to Covid-19 they're the ones controlling the purse-strings that pay your members, and they're happy to hide behind the illusion that it's all down to the TOC. If there's any spare "government" money it should be going to those who have lost their jobs/health/family members/businesses due to the pandemic, not to give your members a raise.