Posted 13th November 2020 | 8 Comments
East West Rail takes next step towards new trains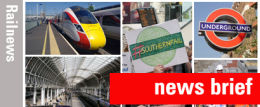 THE company building East West Rail has taken the next step towards procuring a new fleet of trains for the Western Section of the route between Oxford and Bedford, which will be the first part of the line to reopen in full.
At the moment, trains run between Oxford and Bicester, and Bletchley and Bedford, and the centre section between a junction just east of Bicester and Bletchley station is currently being restored, with work well under way replacing a flyover at Bletchley which will carry EWR over the West Coast Main Line and carry high level platforms. Trains on this section will also serve Milton Keynes and Aylesbury.
The EWR Company said it will now be in touch again with potential suppliers, after it had taken account of feedback from the market following the first procurement phase in March.
A Prior Information Notice has been issued, and this sets out plans to obtain a small fleet of between 12 and 14 'self-powered' three-car trains at an estimated price of £44 million for a four-year lease, extendable by two years. The units would be equipped with ETCS Level 2 and capable of being worked with a driver only.
The line is a candidate in the longer term for electrification, and EWR Co. said this first procurement will be 'a short-term, interim solution'.
East West Railway Company chief executive Simon Blanchflower said: 'We listened to what the market had to say about our technical specification, and this has enabled us to reshape our requirements in a way that give us more flexibility in achieving the right outcomes for passengers.
'It's essential we get this public procurement absolutely right, to make sure we give the best value to taxpayers and provide the best solution to the communities who live and work along the East West Rail route.'
Reader Comments:
Views expressed in submitted comments are that of the author, and not necessarily shared by Railnews.
Yes, it seems "beyond Oxford" rarely gets mentioned these days. I would think a large part of this scheme should be to facilitate journeys to Bristol , S Wales, Devon & Cornwall etc., with trains from Bedford or MK going on to Reading or Swindon.
Similarly at the eastern end , to go beyond Cambridge ( already being considered , it seems).

The East-West Rail exhibition I saw a few years ago spoke of trains going through to Reading, to connect into other services (without a second change), but the only talk I have heard recently is to Oxford, with some services to Didcot.

why not use cascaded electric units or bi modes to run the service. Plenty of off lease stock!
[Please see my previous reply to another correspondent.--Ed.]

Should be electrified.
[Should be, and is a candidate. Hence 4-6 years only for this first 'self-powered' fleet.--Ed.]

Class 170 Turbostars could be ideal for the East-West Rail line. Or CAF to manufacture the DMU Civity Class 19x once the Western and Central sections have been rebuilt and new viaduct & platforms at Bletchley.
[Not ideal, I'm afraid. Diesel trains are rapidly becoming yesterday's story. I suspect EWR is looking at battery or hydrogen -- not 170s built the best part of 20 years ago.--Ed.)

The longest of the initial services is Oxford and Bedford at 51 miles, which is within range of a battery electric train. The train would need charging at both ends of the route, but Bedford is fully-electrified and a charging system could surely be fitted into one of the North-facing bay platforms at Oxford.

I believe that an initial fleet of new battery electric trains could work services on the route and if the line is fully electrified, batteries could be removed if required.

A battery electric version of Hitachi's 100 mph Class 385 train would appear to fit the specification well and if ScotRail ordered a few, as they have threatened for a couple of years, it wouldn't be the first order.

In these days, we shouldn't be building new rail lines and then using diesel traction.


Angel Trains will have 16 Class 175/1 units available within the next 1-2 years.
Why lease new trains, if they are only required for 4-6 years?
[The PIN says 'self-powered' trains, but it doesn't say diesel. I think my money is on hydrogen -- but as batteries become more efficient, I wouldn't rule them out either.--Ed.]

As an inhabitant of Bletchley, I'm very pleased to see this infrastructure project being done, after a 20+ years' waiting and hoping. The only qualm I feel now is the possibility of "missing the boat" through catering only to potential local demand within the bounds of Oxford and Cambridge. I do hope proper provision gets made also for more strategic potential traffic, both passenger and freight, linking East Anglia with the West of England and South Wales.

[The 'eastern section' of EWR lies beyond Cambridge, and consists of the existing lines through to Norwich/Ipswich and elsewhere in East Anglia. This document is informative: www.eastwestrail.org.uk/wp-content/uploads/2017/08/EWR-ES-Final-COS-v1.4-3.pdf.
Not so sure about South Wales.--Ed.]