Posted 15th March 2021 | No Comments
Train and platform damaged in Merseyrail collision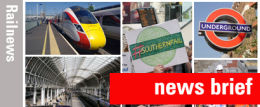 KIRKBY station has been closed for repairs after an arriving train collided with a buffer stop on Saturday evening.
The Merseyrail train was derailed and a section of platform was damaged at about 18.35. None of the 12 passengers or two staff members on board were injured, although the driver was taken to hospital as a precaution.
Merseyrail is not commenting on possible causes of the overrun, but said Kirkby would remain closed while repairs are carried out, with rail replacement buses running from Aintree via Fazakerley.
Both the Office of Rail and Road and the Rail Accident Investigation Branch have been informed.