Posted 9th February 2021 | 3 Comments
RMT calls for an end to Eurostar standoff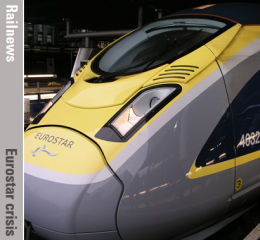 THE RMT union is warning that the future of Eurostar is at risk because Britain and France have not agreed about emergency funding.
Eurostar services have been reduced to just a couple each day following the clampdown on international travel, and the operator's chief executive Jacques Damas has warned that 'catastrophe is possible'.
Eurostar is owned by the French and Belgian railways plus two international investment houses, which bought Britain's 40 per cent stake in Eurostar's parent company in 2015. The nationalised French railway SNCF has the largest share, with 55 per cent.
Talks about rescue measures have been underway beween Britain and France, but British transport secretary Grant Shapps told the Commons transport committee last week that 'we don't want the operation to stop, although we are actively encouraging people not to use it at the moment. A solution will be found. I don't think there is any world in which we cease to have that connection in the future when we are all able to travel again. But to state the obvious, it is the shareholders' problem to resolve and we will be as helpful as possible, but it is not for us to take over.'
The RMT is launching a SAVE EUROSTAR campaign aimed at Grant Shapps, which says: 'RMT is calling on the secretary of state for transport to urgently agree assistance for Eurostar, which, like other transport operators, has been significantly impacted by the Covid-19 outbreak, but which has not yet received any support from the UK government.
'Eurostar provides a vital, low carbon, link between the UK and mainland Europe, and will be essential to the UK's green economic recovery from Covid-19. Eurostar is a UK-registered company with its head office in London and the company supports over 3000 UK jobs. It would be disastrous, economically and environmentally, if the service were not protected.'
The union's general secretary Mick Cash added: 'It is essential that Governments, including the British Government, make the emergency funding available to bridge a way through this current lockdown and ensure that Eurostar is there, fighting fit, to help the economy punch its way out of this crisis and provide the essential green rail links to the continent.'
Reader Comments:
Views expressed in submitted comments are that of the author, and not necessarily shared by Railnews.
A potential bailout is a great opportunity to impose some conditions on Eurostar's operation in return for funding. These could include:
- Reinstating cheap through booking from UK provincial stations to continental stations
- Making CIV connecting tickets available online
- Standard conditions for carrying bikes, as other UK rail operators
- More calls at Ashford, Ebbsfleet and maybe even Stratford? These could be accommodated by running some semi-fast trains to Lille.
- A requirement for fixed standard fares available a day or two in advance, to prevent price-gouging.

This is becoming an unusual habit - agreeing with Mick Cash again !