Posted 21st January 2021 | 4 Comments
UK government urged to help Eurostar in partnership with France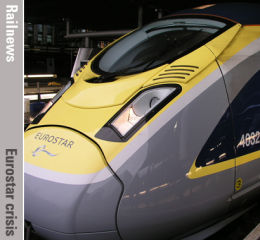 THE British government is being told 'we cannot afford to lose Eurostar', which is in crisis as a result of the pandemic travel restrictions.
Nationalised French rail operator SNCF has a 55 per cent stake in the company which owns Eurostar, and Belgian railway SNCB has 5 per cent. The other 40 per cent is owned by two international investment houses, after Britain sold its share in 2015.
The Commons Transport Committee has been advised by French academic Professor Yves Crozet that he supposes 'the French Government will support Eurostar, but not alone. We will have probably an arm wrestling between the UK and France about that. But clearly Eurostar is a subsidiary of SNCF and SNCF has the majority of the capital. So clearly the money will come from France in a very important part but maybe France will ask UK to give also some hand to the system.'
M. Crozet does not speak officially on behalf of the French government, but he is Emeritus Professor of the Institute of Political Studies at the University of Lyon, and has been researching the effects of the pandemic on all modes of transport.
He explained: 'If you want to keep Eurostar today, you have to give a lot of public subsidies … as an economist, I think that the main consequence of the pandemic is that the sectors needing public money to survive will be more and more important – we have, for example, restaurants, we have the Eurostar, we have hotels and so on. It is exactly the same consequence as after a war.'
MP Huw Merriman, who chairs the Transport Committee, said: 'We simply cannot afford to lose Eurostar to this pandemic. The company contributes £800 million each year to the UK economy. It is unique in offering an environmentally friendly, direct, connection to mainland Europe. Trips from London to Paris, Brussels and Amsterdam on the Eurostar emit between 80-90 per cent less greenhouse gas emissions per passenger than the equivalent short-haul flights.
'Like airlines, quarantine and travel restrictions have blighted Eurostar's access to its markets during the pandemic. Unlike airlines, Eurostar has been shut out from government loans that have offered a lifeline.
'Eurostar's traffic has fallen by over 95 per cent; services have been stripped back to a bare minimum. It needs a joint, bespoke UK-French solution to help it through this crisis.'
Reader Comments:
Views expressed in submitted comments are that of the author, and not necessarily shared by Railnews.
Along the lines of Hugo's suggestion, The UK should agree to help bail out Eurostar in return for a share in the company.

Does seem from many on-line commentators, that a large majority are dead set against handing money to the French state & a Canadian hedge fund to prop up Eurostar. Better to let it fail and allow someone else to run it, my sympathies are with the the uniformed staff.

Last year I found myself stranded in Gare Du Nord on a Saturday afternoon, our incoming train was 3 hours late, and CIV rules apparently did not apply. The next four Eurostar trains were just 30-40% full. Their staff tried everything but could not make a change to our tickets, instead apologetically asking 2X £325 for new, standard class tickets home. The staff had no discretion - and it **really wasn't their fault**. They spoke with us in a side office and showed us on the system how the company has locked changes, deliberately to get as much cash as possible out of customers.

We got the boat, and arrived home a day late.

So, for 55% SNCF, 40% hedge funds, and 5% SNCB.... who would like our cash - nope.

I think the only thing we can do here is to nationalise the UK part of Eurostar?