Posted 5th February 2021 | 5 Comments
Campaigners call for Okehampton route reopening on Dawlish anniversary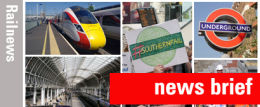 IT IS seven years since the first of two savage storms destroyed several hundred metres of main line along the sea wall at Dawlish in south Devon, on 4 and 5 February 2014.
Attempts to provide some emergency protection using freight containers filled with sand and stones did not prevent a second wave of destruction during the evening of 14 February, when another storm swept in.
The line, which is the only rail connection between Exeter, Plymouth and Cornwall was reopened on 4 April, just after prime minister David Cameron had visited the site and praised Network Rail's 'orange army' workforce.
Work on a new and more resilient wall started in May 2019, and the first section was completed in July last year. The wall was officially opened by rail minister Chris Heaton-Harris in September. It runs for 360 metres west of Dawlish station.
Work on the second phase has been affected by local objections to some of the details, particularly the plan to move the railway towards Teignmouth further away from the cliffs. A local protest group claimed such a move would 'leave a colossal carbon footprint and destroy sensitive marine habitats'.
In response, Network Rail arranged a six week consultation in January last year, saying its proposals now included a revised design and environmental research.
Work to install piling started in November, using an innovative eight-legged, self-contained walking jack-up barge, known as a 'Wavewalker'. The prohect is expected to be completed in early 2023.
Meanwhile, a campaigning group. the Tavistock Okehampton Reopening Scheme, is calling for the former Southern main line to be reopened between Exeter and Plymouth, to provide a more resilient alternative to the Dawlish route.
TORS director Jim Collins said: 'Continuity of service while the coast line engineering works are underway or when serious storms strike at high tides is one of a wide range of benefits the TORS project brings to the region. We shouldn't let slip the opportunity of the 'Northern Route' to ensure the safety and resilience of the South West's rail connections.'
Reader Comments:
Views expressed in submitted comments are that of the author, and not necessarily shared by Railnews.
Thanks for the more detailed statisics re. the Cowley Bridge possibility. It does seem the lines to the east of Exeter , especially in the Taunton direction, are a good deal faster than the existing line West to Plymouth and Cornwall . In terms of wider costs / benefits could there be a viable case for a cut- off somewhere between Exeter and the Devon banks that would bring Plymouth ( popn. - 250,000 ?) firmly into Intercity range of London ( and Bristol , Birmingham ) ?



I think it's a great idea to reopen the railway line to Okehampton and Tavistock.

Exeter St. David's is the station with the highest passenger numbers in Devon & Cornwall, due to its position as a railhead for much of East and North Devon. According to the ORR's "Estimates of Station Usage 2016-17", there were 2.64 million entries & exits, as well as 1 million interchanges. The second busiest station in Devon and Cornwall was Plymouth with 2.51 million & 100,000 respectively. Newton Abbot, which a cut-off line would also avoid had 1.19 million entries & exits and 348k interchanges.

A suggested cut-off line in the Cowley area would mean spending tens of millions of pounds to bypass these stations. The benefit would be a few saved minutes for trains starting at Plymouth (services originating at Penzance would have to reverse to use the LSWR route), as well as the ticket revenue from a couple of small towns en-route (much of which would be abstracted from the current Exeter & Barnstaple lines ticket sales anyway). Given this, I think that such a scheme would produce a very negative cost:benefit ratio.

I should note that I am not against TORS' plans per se, as long as the route is reopened on the basis that it is a community railway linking North and South Devon, an extension of the Waterloo-Exeter line (Plymouth-Portsmouth direct services too, please!) and a diversionary route.

The "Northern Route" might also have a new connection at Cowley Bridge Junction, bypassing Exeter, to cater to fast Paddington - Plymouth Intercity trains ( something already suggested by others before).

Does anybody have any information on how much time could be saved with such a new cut - off, and what the construction costs might be ?