Posted 16th October 2018 | 3 Comments
Network Rail steps up Dawlish resilience plan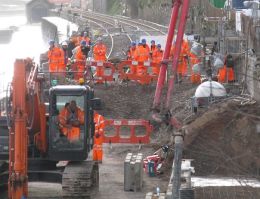 A SERIES of local information events will be held in south Devon over the next few weeks, as Network Rail steps up its project to improve the resilience of the weather-threatened railway through Dawlish and Teignmouth.
The announcement of the community drop-in sessions has come just two days after a hole nearly two metres wide and deep appeared under the main line at Teignmouth. The line was closed for emergency repairs, prompting Plymouth Labour and Co-operative MP Luke Pollard to say that 'the south west has had enough and I have had enough. The lack of action by government on improving our railway is causing real damage to our economy.'
The Department for Transport has defended its stance, saying that improvement of the railway along the south Devon coast was a 'national priority'.
The line through Dawlish, which runs along the sea wall, has been repeatedly devastated by storms almost ever since it was opened in 1846. The most recent serious damage occurred in early 2014, when the line was closed for more than six weeks as the result of damage inflicted by two violent storms a few days apart. The route reopened in early April after tremendous efforts by hundreds of Network Rail engineers to restore the only railway to Plymouth and Cornwall in time for the start of the holiday season.
Even so, the lack of trains to and from the far south west in February and March was said to have cost the regional economy as much as £1.2 billion.
Three drop-in events setting out Network Rail's current intentions will be held in Dawlish, Holcombe and Teignmouth between 30 October and 15 November, when Network Rail staff and 'world leading engineers' will provide an update on the detailed studies that they have been conducting. These have involved detailed assessments of the terrain and the engineering challenges which it presents.
Such is the scale and importance of these challenges that Network Rail has established a dedicated South West Rail Resilience Programme to identify and adopt the best options to improve resilience. This Programme is being funded by £15 million from the DfT.
Western route managing director Mark Langman said: 'It is not only vital for us to identify the most effective engineering solutions to protect this iconic stretch of railway, but also to consider any environmental implications and engage with local communities on the details of any potential schemes.
'Getting this right for everyone is absolutely at the forefront of our minds as our world leading engineers continue their investigations into 2019. We are looking forward to speaking to local people at our events this autumn.'
Reader Comments:
Views expressed in submitted comments are that of the author, and not necessarily shared by Railnews.
Constantly reinforcing and repairing the Dawlish line as a result of encroachment by the sea is a bottomless pit. At some point, there will be a need to seriously consider abandoning this section in favour of an inland route.

There were plans to build a diversion route for the Cornish Main Line to avoid the sea at Dawlish and to build a new station close to Dawlish on the new railway line that will be part of the Cornish Main Line. And to close the current line that is to become a public footpath and bridleway.