Posted 4th September 2020 | 2 Comments
Eurostar withdraws from Kent stations for two years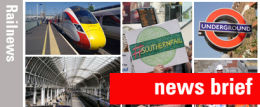 EUROSTAR has axed Ashford and Ebbsfleet from its timetables, and says its trains are unlikely to call again at the international stations in Kent before 2022.
Eurostar stopped serving the two stations as lockdown started in March, but said: 'We have experienced an unprecedented fall in demand, with bookings down by 90 per cent compared to last year. The environment remains very unpredictable and has been exacerbated by quarantine restrictions.
'Given the uncertain outlook, it is crucial that we adapt and take action to reduce our costs so that we protect our business for the future. In 2021, therefore, we will reduce our timetable focusing only on our core routes and destinations where we see the highest demand.'
But there have been protests in Kent, and Ashford MP Damian Green described the decision as 'clearly very bad news'. He continued: 'Frankly, as long as the quarantine is on it is not going to make that much difference as not that many people are travelling. But what I will question when I speak to Eurostar is why it won't return for such a long period.'
Meanwhile the white collar rail union TSSA said it was anxious to prevent job losses. General secretary Manuel Cortes said: 'We will do all we can to work with the company to protect jobs, but we must see meaningful discussions for our members about options for those working at these two stations. Frankly, the extended closure of Ashford and Ebbsfleet is another clear sign that Eurostar needs help from the UK government – something I called for months ago. Ministers can't be allowed to sit on the sidelines. They must act now.'
Reader Comments:
Views expressed in submitted comments are that of the author, and not necessarily shared by Railnews.
Very sad news, please reconsider as travellers from the east coast and eastern counties prefer to travel from both Ebbsfleet and or Ashford, very conveneant, good parking, 1.5 hrs driving from my front door, I regularly use your services from Ebbsfleet for both Paris and now hopefully Amsterdam/Rotterdam.