Posted 14th January 2021 | 3 Comments
Manchester rail service consultation launched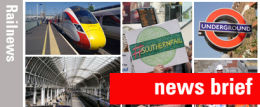 THE Department for Transport has launched a public consultation about three possible future patterns of train services in Greater Manchester, in a bid to improve reliability on its congested network.
The first option makes few changes, but the second sacrifices the through service between Sheffield and Manchester Airport in return for increasing services between Cleethorpes, Nottingham and Sheffield to Manchester and Liverpool to twice-hourly. The DfT points out that the Sheffield to Manchester Airport services have proved to be 'very operationally challenging' at Manchester Piccadilly.
The final option, Option C, makes the most changes. Its aim is to achieve twice-hourly frequencies on most lines to Manchester including services on the Blackburn, Calder Valley, Chorley, Wigan, Buxton, Chester via Warrington Bank Quay, Airport (stopping) and Crewe lines.
Any changes are set to be introduced in May next year.
Rail minister Chris Heaton-Harris said: 'We are putting the power to improve Manchester's rail network in the hands of those that use it daily.
'I urge passengers to use this opportunity to comment on the future of your railway. Improving punctuality and reliability is one of my key priorities. As we continue to build back better from the pandemic, these proposals will ensure that the rail network is more dependable for those who use it every day.'
Manchester's mayor Andy Burnham has welcomed the consultation, saying: 'The bottleneck in central Manchester is a problem for the whole of the North – and solving these congestion issues will improve the reliability of rail services for passengers right across the North. As we look to build back better from the pandemic, we want to work with the Government to deliver a reliable and dependable timetable, alongside the much-needed upgrades to our Victorian infrastructure.'
Reader Comments:
Views expressed in submitted comments are that of the author, and not necessarily shared by Railnews.
I am unsure about Option 2 improving the reliability of services, as it would increase the number of trains through the Oxford Road corridor. Pre-Covid, the truncated service from Sheffield (which originates at Cleethorpes) to the Airport reversed in a terminal platform at Piccadilly, and when formed of two sets, often one of these had to layover in Piccadilly due to lack of platform length at the Airport. Doubling the Nottingham-Liverpool service would increase the number of trains through the Oxford Road corridor.

Perhaps if the DfT had not cancelled the enlargement of Oxford Road and Manchester Piccadilly station platforms 13 to 14 to have 4 operational platforms then we would not have this problem!