Posted 10th December 2020 | No Comments
Passenger figures increased when lockdowns were eased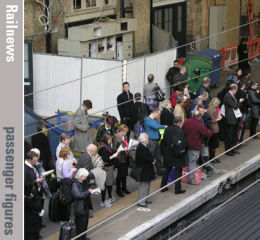 THE Office of Rail and Road says 134 million journeys were made in the second quarter of the year, an increase of almost 100 million on the previous three months, when the first lockdowns began. Even so, the number in Q2 was less than a third of the 'normal' total for the same quarter in 2019.
Off-peak tickets were used on nearly half the journeys in the second quarter, and the Rail Delivery Group reacted to the latest figures by supporting the introduction of more flexible season tickets.
The Department for Transport has estimated that passenger rail use began the quarter at around 16 per cent and then increased throughout the summer. The highest percentage, at 43 per cent of normal, as estimated by the DfT, was recorded in the first week of September.
The highest percentages were recorded by Transport for London Rail, London Overground and c2c, which registered 44.5, 39.5 and 39.1 per cent of the previous year's figures.
ORR director of planning and performance Graham Richards said: 'With the first lockdown eased, passengers started getting back on the railway and we also see a shift towards more off-peak travel. Train companies rose to this challenge by increasing services to allow for social distancing on trains to meet demand.
'But when passengers return during 2021, it is important that the rail industry maintains the good punctuality we've seen recently and provides clear and accurate information to help passengers plan and make journeys with confidence and ease.'
Director of nations and regions at the Rail Delivery Group Robert Nisbet added: 'Train companies have increased cleaning, improved information and maximised space on trains to help people travel with confidence, and when the time is right, we want to do more to incentivise people back on to trains to benefit passengers, the environment and businesses across Britain.
'To do that, we're keen to work with the government to introduce flexible tickets that would give better value to commuters who plan to work from home more, along with wider industry proposals to enable train operators to better respond to the rapidly evolving needs of their customers.'