Posted 9th November 2020 | No Comments
Avanti trims West Coast timetable in response to lockdown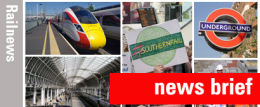 AVANTI West Coast is reducing its timetable between London and Manchester and also London and Birmingham in response to the latest lockdown in England.
Some operators have said they will not be reducing their timetables during the November lockdown, but Merseyrail is also reducing the frequency on its Southport line to half-hourly from today.
The number of Avanti trains each hour on the West Coast Main Line is being cut to two rather than three from Saturday. The services being axed are the xx.03 from London Euston to Birmingham New Street and the xx.50 return, plus the xx.00 from London to Manchester Piccadilly and the matching up service at xx.35 from Manchester.
The other trains will stop at more intermediate stations to compensate for the loss of station calls caused by the cancellations.
Passengers who were booked to travel on the cancelled services are being contacted, and are entitled to full refunds if they decide not to use an alternative train.
Avant said timetables on its other routes will remain 'roughly' the same, and a source told Railnews that it is not thought likely that the three-trains-an-hour frequencies will be restored until 'well into the New Year'.