Posted 4th September 2020 | 3 Comments
HS2 heralds 'formal' start of construction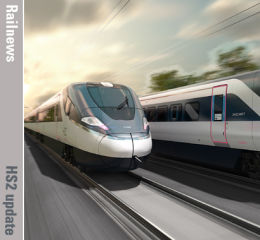 HS2 LTD says 22,000 jobs will be created by the construction of Phase 1 of the high speed line between London and Birmingham.
Enabling works and other preparations at a number of sites have been underway for some time, but HS2 says it is now marking the 'formal' start of construction.
Transport secretary Grant Shapps said: 'Today marks a major milestone in this government's ambitions to build back better from Covid-19.
'Shovels in the ground to deliver this new railway means thousands of jobs building the future of our country's infrastructure. This fantastic moment is what leaders across the North and Midlands have called for – action to level up our country by boosting capacity on our railways, improving connections between our regions, and spreading prosperity.'
HS2 Ltd CEO Mark Thurston added: 'This is a hugely exciting moment in the progress of HS2. After 10 years of development and preparatory work, today we can formally announce the start of full construction, unlocking thousands of jobs and supply chain opportunities across the project.
'We are already seeing the benefits that building HS2 is bringing to the UK economy in the short term, but it's important to emphasise how transformative the railway will be for our country when operational. With the start of construction, the reality of high speed journeys joining up Britain's biggest cities in the North and Midlands and using that connectivity to help level up the country has just moved a step closer.'
HS2's main works contractor for the West Midlands, the Balfour Beatty VINCI Joint Venture (BBV JV), along with its supply chain partners, said it expects to be one of the biggest recruiters in the West Midlands over the next two years, with up to 7,000 skilled jobs required to complete its section of HS2.
The EKFB Joint Venture (Eiffage, Kier, BAM Nuttall, Ferrovial) – which is building the section from the Long Itchington Wood site in Warwickshire south to the Chiltern tunnel portals, has said it will recruit over 4,000 people in the next two years, many based in Milton Keynes, while Skanska Costain STRABAG (SCS JV), Balfour Beatty VINCI SYSTRA (BBVS JV), Align JV and Mace Dragados JV, confirmed that they will collectively recruit over 10,000 staff for their part of the project in Greater London.
However, critics of the scheme, some of whom have labelled it a 'vanity project', say they will keep up their opposition.
Stop HS2 campaign manager Joe Rukin said: 'Trying to spin HS2 as a job creation scheme is beyond desperate. Creating 22,000 jobs works out at almost £2 million just to create a single job.'
In a BBC interview today, transport secretary Grant Shapps responded: 'I can't see how there's an argument that making it easier to get about this country is somehow going to destroy jobs, quite the opposite in fact. It's clearly going to make the economy level up, Find those left behind areas, that have found themselves too disconnected before and join it together.'
Reader Comments:
Views expressed in submitted comments are that of the author, and not necessarily shared by Railnews.
In terms of history today's pandemic is just a blip in time .... Imagine if we had not expanded London Underground when the flu pandemic gripped the world a century ago !

As for north of Birmingham then legislation to extend to Crewe is currently going through Parliament and having cleared all stages in the commons ( barring ant Lords amendment) is now going thrthe Lords with Royal Assennt expected at the beginning of 2021 allowing work to commence onwards to Crewe !

HS2 is not a commuter railway but a Mainline basically WCML2 taking long distance services off existing route thus freeing up space for more local and freight trains !

The future of HS2 may well depend on what happens to the rest of the Network over the next few years. If they don't see their passengers return then the future of HS2 north of Brum may well be in doubt.