Posted 14th October 2020 | 2 Comments
Longer freight trains to Southampton with £17m investment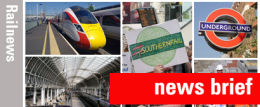 THE government has announced a grant of £17 million so that freight trains running to Southampton Docks can be increased in length from 520m to 775m, which will allow an extra 14 containers to be carried on each train.
Rail minister Chris Heaton-Harris said: 'The injection of funding into the expansion of freight capacity will have a profound effect. Not only will this lead to a greener and more cost-efficient way to transport freight from Southampton, but the economic benefits will also be substantial.
'Our freight industry has played an integral role through this pandemic helping keep this country moving, and this investment will ensure it continues to support our economic recovery.'
Network Rail Wessex route director Mark Killick added: 'The railway in Southampton plays a vital role in bringing goods into the country and sending exports overseas. Our upgrades will support up to 14 extra containers for each train, providing a great boost for Britain's freight network and those businesses relying on it to transport goods to stock shops, and materials for industry.'
Network Rail has also warned that there will be some line closures in the Southampton area in early 2021, so that tracks and junctions can be upgraded for the longer trains.
Reader Comments:
Views expressed in submitted comments are that of the author, and not necessarily shared by Railnews.
Years back - when the UK was an exporting country - the maximum weight of trains to ports such as Southampton was reached well before any concerns about train weights could cause problems. Today the majority of containers are 40-45 footers loading one to a wagon. The import boxes mostly contain manufactured goods supplying retail outlets which do not weigh up to the maximum, those returning to the ports are mostly empty so the maximum weight for the traction is not reached...hence the "campaign" for longer trains.