Posted 7th October 2020 | No Comments
Major signalling fault paralysed West Coast Main Line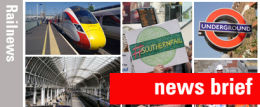 A SIGNALLING fault disrupted train services on a 10km stretch of the West Coast Main Line near London on Wednesday morning.
The affected section between Watford Junction and Milton Keynes Central reopened a few hours later, but passengers were being warned to expect that some disruption would continue for a while.
Network Rail had issued a 'don't travel' message to passengers earlier in the day after the power to signalling circuits had failed.
Operations director Phil Barnes said: 'I'm sorry passengers' journeys won't go as planned today. We lost power in the Leighton Buzzard area, which means that most services in and out of Euston will be cancelled. We're working quick time to get this fixed.'

The fault was repaired later the same day.