Posted 7th September 2020 | 5 Comments
Rail industry wants passengers to be 'confident' as more trains run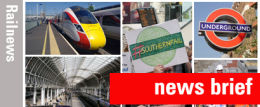 TIMETABLES on many lines are being increased to around 90 per cent of pre-pandemic levels from today, as children return to school and more commuters are set to travel to offices again, at least on some days each week.
One priority is to maintain social distancing on board trains, so units are being lengthened where possible said the Rail Delivery Group, whose train operator members are also anxious to maintain recent improvements in punctuality.
The operators have worked closely with schools and other education providers to identify potentially busy stations or trains. Not only will trains be lengthened where possible, but staff will also be on hand to explain to older children the rules on wearing a face covering and maintaining social distancing.
National Rail's 'Alert me by Messenger' service flags up busy trains, and it is now sending more than a million message a month to 100,000 passengers.
Rail Delivery Group chief operating officer Jacqueline Starr said: 'We want people to feel confident taking the train as they get back to school and adding services back into the timetable where they're most needed will support that. Rail companies are doing everything they can to ensure people start the term with a smooth journey, including boosting cleaning, providing sanitiser at stations and offering better information about busy services. Some train times will change so we're asking people to check before they travel and plan their journeys for quieter times if possible.'
Reader Comments:
Views expressed in submitted comments are that of the author, and not necessarily shared by Railnews.
Commuting has been an unpleasant and expensive 'necessary evil' for decades.

And then Covid came along and demonstrated to many commuters and businesses that it was an unnecessary evil.

I have read suggestions here and elsewhere that if you remove the need to support two 'rush hour' periods each day, the rail operators can become genuinely profitable. So arguably there is a strong incentive for them to move away from the old model.

Which just leaves the inner city businesses that are now suffering (and seemingly the main reason for the central government push to get us back into the trains). Surely it would be better long term to support them to transition to providing new services rather than trying to go backwards?

And rail fares is to increase in January 2021. By again around 3% or 4% which will cost more money to use trains and other transport (including London Underground & DLR).
[No decision has been announced about rail fare increases.--Ed.]

The main problem has been the government's past advice that people should use their cars, cycle or walk and only consider public transport if their journeys are essential. Now they are urging people to use the trains again albeit with face coverings and socially distancing. However many people remain reluctant to board a train (or a bus),as they still believe it is not safe - particularly as they hear stories about some passengers bluntly refusing to wear a mask. Consequently, if the government is urging people to return to the trains, they have to work with the train operators to ensure that all journeys are completely safe, otherwise it is going to quite some time before passenger footfall is back to pre-pandemic levels.

I am not confident on using Trains during Commuter times and certainly not the London Underground. I may soon start using them again to go the opposite direction from London at the Weekends. But being over 70, I am still worried. I will be first in the queue for a vaccine when available but I always have hand sanitiser and a mask with me wherever I go. There are just too many buttons and handrails to push on trains which have been shared with other people. Going to the Loo means pushing 7 buttons to open, close, lock, wash, soap, dry, flush - let alone hand rails.