Posted 13th July 2020 | 1 Comment
'Near-miss' train driver had reset emergency brake and carried on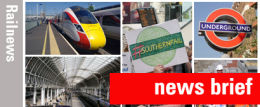 THE Rail Accident Investigation Branch has revealed that a Chiltern Railways driver who was involved in a near collision with an Underground train last month had passed a red signal and then reset the tripcock after it had triggered an emergency stop.
The Chiltern train was travelling on the southbound line from Amersham on the evening of 21 June and approaching Chalfont & Latimer station, where the route had been set for a northbound Metropolitan train to make a conflicting crossing movement.
The RAIB said the Chiltern driver, whose train had come to a stand just over 300 metres beyond the red signal, then reset the brake and restarted. Because the junction had been set for the Metropolitan train, the Chiltern train was diverted at this point on to the northbound line, where the Metropolitan train was waiting to depart from Chalfont & Latimer station, although the platform starting signal had returned to red because of the Chiltern train's SPAD.
The Chiltern train continued to run 'wrong direction' on the northbound line until it stopped about 23 metres – barely more a single carriage length – from the stationary Metropolitan train. No one was hurt, but reports at the time that some track had been damaged by the unauthorised move have been confirmed.
The RAIB said its inspectors are now examining what happened and the actions of the people involved, as well as Chiltern Railways' arrangements for driver training and assessments of staff competence and fitness. A full report will follow. Meanwhile, Chiltern Railways said after the incident that 'we have an excellent safety record and are working with the Rail Accident Investigation Branch to understand the causes of this incident'.
Reader Comments:
Views expressed in submitted comments are that of the author, and not necessarily shared by Railnews.
So no one knows who's fault is it then?!

[It is not the RAIB's task to find fault and therefore you cannot expect that, especially in a preliminary report. All we have had so far is a straight statement of what happened. When the inquiry has been completed and the full report has been published, it is then for the Railway Inspectorate at the Office of Rail and Road to apportion 'blame', if any, and decide whether the incident warrants a prosecution on health and safety grounds. But if that happened, it would not be for some time yet.--Ed.]