Posted 12th May 2020 | 4 Comments
It's confirmed: train services will increase from Monday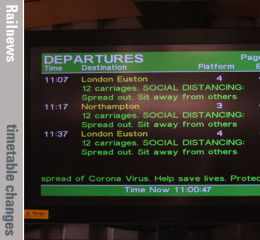 Updated 11.10

THE Rail Delivery Group has confirmed that the number of trains willl be increased from next week, and that capacity on board will be down to as little as 10 per cent as a result of social distancing.
The RDG was responding to new government guidance on social distancing and the easing of some lockdown restrictions in England.
However, the rail unions are protesting about the prospect of more commuters on trains from tomorrow as the first step in a phased return to work.
Robert Nisbet, who is director of nations and regions at the RDG, said: 'As the government has said, people should only use trains if they have no alternative. There will be space for as few as a tenth of the usual number of passengers so we need everyone's help to keep trains for those who really need them, so please only use the railway if you absolutely have to.
'If you do have to travel by train, help us get you safely where you need to go. Plan ahead by buying tickets online and travelling off-peak. Consider others by maintaining social distancing where possible and wearing a face covering. Stay safe by using contactless, washing your hands and carrying hand sanitiser.
'As well as gradually increasing services from next week and running longer trains in some places, we will be cleaning trains and stations throughout the day, every day. We will be managing capacity on trains and in stations and increasing signage to help people get around.'
Greater Anglia has been the first operator to give any details of improved services. GA will provide an amended Saturday service from Monday, with more trains on the Great Eastern Main Line from Colchester, Clacton and Southend to London and also on the West Anglia line from Cambridge to London.
Regional routes stay unchanged for now, but the hourly Norwich to Cambridge service will run as a direct service to Stansted Airport again.
The rail unions have already warned that they will oppose any strengthening of the current timetables unless staff are protected sufficiently, and are now protesting about the prospect of more commuters from tomorrow.
RMT general secretary Mick Cash said: 'The Government's "return to work" policy from Wednesday morning risks unleashing total chaos on a transport network which has not been told to prepare for a rise in numbers until next Monday. This is a ridiculous and dangerous way to treat both staff and passengers alike and will have potentially lethal consequences.
'Maintaining social distancing on trains and tube is a massive logistical exercise that requires planning, resources and the protection of staff managing the flows of passengers. To rush that exercise is a disgrace.
'RMT has made it clear that our members have a right to refuse to work in unsafe conditions and the union will be closely monitoring the situation tomorrow morning.'
Reader Comments:
Views expressed in submitted comments are that of the author, and not necessarily shared by Railnews.
Up to a point, I agree with Tony Pearce inasmuch as, for a couple of years, rail may be in for a "rough ride". With regard to more people working from home, this could very well happen but there will still be a sizeable number of others who will still commute to work. Those who will continue with their morning rail journeys are going to find fewer fellow passengers and, as a result, they will get seats. Electric cars will replace petrol and diesel vehicles for those who never travel by rail and electric scooters will be just fun-things for local travel. There will still be a demand for rail travel for both work and leisure, although it might take a couple of years to return to pre-pandemic levels.

Tony Pearce has lost the plot ladies and gentlemen!
[Oh, tut. He is entitled to his views. They are not necessarily endorsed by Railnews. Let this correspondence cease here.--Ed.]

Here is my prediction ... maybe some truth in it somewhere. The Railways will become basically there for freight, not passengers. Most people will work from home. People who have to work in Towns or Cities will go there in small electric Cars or electric Scooters. Air Travel will almost disappear and so will the Rail Passengers who go to Airports with their huge suitcases. Maybe if a treatment or vaccine is found in the next few months this may not happen, but if we are still exactly like this in a year's time, I think Rails future will be grim.

A major failure as far as railways are concerned is the government not accepting trains in the present configuration will carry as many passengers as normal .

Rail companies and TOCs should have been given time to reduce seats especially 3+2 seating which both reduces the aisle which passengers walk along and produces the seat in the middle meaning 3 passengers sit together rubbing against each other.

For inter city services a mandatory need to book seats needed to be introduced to prevent overloading by standing passengers and to control seat usage . It's worth noting that while capacity will be reduced it might still be better used by allowing couples and maybe families to travel together.

A recent table showing deaths by age showed how few people below the age of 60 have died of covid19 which is mainly an old persons disease but bad presentation of figures has lead many to believe everyone would be affected the same as the worst cases .

While the anti HS2 brigade have tried to use it to cancel HS2 but given the reduction in capacity it's actually needed even more !
Have Your Say