Posted 4th May 2020 | 1 Comment
Government support for trams criticised by city leaders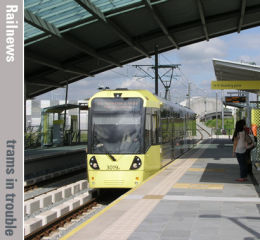 FUNDING from the Department for Transport worth £8.6 million over 12 weeks for Tyne & Wear Metro to keep key worker transport running is not enough, according to the man who chairs the North East Joint Transport Committee.
The cash is part of a £30 million settlement for light rail and tram networks outside London.
Councillor Martin Gannon, who is also leader of Gateshead Council, said: 'While I welcome the funding package announced by the Government, it is quite simply not enough. Metro is losing close to £1 million a week and we need all of our costs covered, not just 80 per cent. We have incurred massive losses as a result of the lockdown and will continue to do so even when restrictions ease. Metro, through Nexus, is owned by the Tyne and Wear councils who are predicting massive budget deficits as a result of this pandemic and cannot afford to pick up this bill. So we will be going back to the Department for Transport to ask for more.'
Transport North East managing director Tobyn Hughes agreed that the settlement is not enough, saying: 'Our fare income has all but disappeared during the lockdown period, leaving a financial black hole of more than £10 million in our budget. The Government's funding of £8.6 million covers around 80 per cent of that and is very welcome, but it still leaves a funding gap that we need to close.'
Similar disquiet has been expressed by the Mayor of Manchester Andy Burnham, who said he was 'struggling to find words of support' for the decision.
He continued: 'At the start, we were told to spend what we needed to provide essential services, but now we find out we only have three-quarters of the income Metrolink needs to run at its current reduced services for key workers and essential journeys. Once this funding ends in early June, we will simply not be able to continue running Metrolink. The public should be under no illusions that mothballing the largest light rail network in the country remains a very real possibility.'
Reader Comments:
Views expressed in submitted comments are that of the author, and not necessarily shared by Railnews.