Posted 4th May 2020 | 2 Comments
4 May: news in brief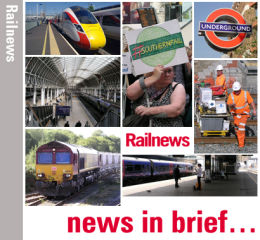 Search begins for HS2 track contractors
HS2 Ltd is inviting applications from contractors who can design and build 280km of ballast-free slab track for the new high speed line between London, Birmingham and Crewe. The work will be awarded to successful bidders in four lots. HS2 said the contractors will also 'be responsible for the design, installation and testing of switches and crossings, managing construction logistics and co-ordination, and supporting the testing and commissioning phase'. Shortlists are expected to be announced towards the end of the year, with the awards following in 2022.
New station plans move ahead
PROPOSALS for a new station at Soham in Cambridgeshire between Ely and Bury St Edmunds have moved ahead, with the submission of a planning application to East Cambridgeshire District Council. Network Rail is seeking permitted development rights following the announcement in September 2019 of £18.6 million of funding from the Cambridgeshire and Peterborough Combined Authority. The new station at Soham will include a single 102 metre platform with waiting shelters, lighting, information screens and a public address system. There will also be a stepped footbridge across the line. Construction could begin later this year and be completed in the spring. The original station serving the town was largely destroyed by an exploding munitions train in 1944. Although restored, it was closed in 1965.
Eurostar introduces face-cover rule
ALL Eurostar passengers must wear some form of face-covering from today, to conform with guidelines in force in France and Belgium. Passengers who do not comply could face fines in continental Europe, Eurostar warned. The company added 'please ensure you have a mask with you when you travel. Any type of mask is suitable as long as it effectively covers your nose and mouth.'
Reader Comments:
Views expressed in submitted comments are that of the author, and not necessarily shared by Railnews.
I tried making a mask yesterday at home. Hit on the ideal solution. A pair of my wife's old knickers (washed of course) with holes cut out for the eyes did the job wonderfully. Is this acceptable for Eurostar ?