Posted 12th March 2020 | No Comments
12 March: news in brief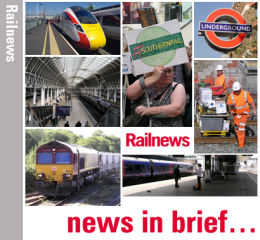 Tree blocks Cross City line
UPDATED 15.10

THERE are no trains between Birmingham New Street and Lichfield Trent Valley, because a fallen tree at Wylde Green has blocked the railway and damaged the overhead lines. Network Rail engineers are removing the tree, and they will then replace the damaged OHLE. West Midlands Railway said the disruption was expected to last all day, and replacement buses are running between Sutton Coldfield and Lichfield Trent Valley. WMR said: 'We are sorry we are unable to provide a service on the Cross City North line today. Passengers are advised to allow more time for their journeys today. Anyone delayed 15 minutes or more is encouraged to claim compensation.' UPDATE: It is hoped that a limited train service can restart between 16.00 and 17.00, but WMR has warned that it will take several hours to return all trains to their scheduled positions, and so some disruption is likely during the rush hour this evening.
Budget boosts for Tyne & Wear and West Midlands
THE March Budget has included £95 million for Tyne & Wear Metro, where 3km of single line is to be doubled over three short sections between Pelaw and Bede, by upgrading and electrifying a parallel freight line. Four more trains are also to be ordered, bringing the size of the new Metro fleet now being built by Stadler to 46 units. The new double track sections are set to open in September 2022, while the larger fleet will allow Metro to improve frequencies outside the central area to six trains an hour. Meanwhile, the West Midlands is getting £20 million as a contribution towards the Midlands Rail Hub. The proposals include 24 extra trains an hour on commuter and inter-regional routes between Coventry, Birmingham, Leicester, Nottingham, Derby, Lincoln, Worcester, Hereford and other towns. The new funding means that an Outline Business Case for the Hub can now be prepared, which will include detailed designs, plans and costings.
Have Your Say