Posted 11th March 2020 | 4 Comments
Arriva reports £222.6m loss on Northern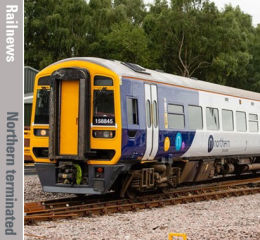 THE Northern franchise run by Arriva lost £222.6 million in the year to March 2019, according to newly-published accounts from Arriva Trains North Ltd.
The contract continued until 1 March this year, when it was terminated by the Department for Transport and taken over by the DfT's Operator of Last Resort. It should have run until April 2025, but transport secretary Grant Shapps told Parliament at the end of January that the operation was 'no longer sustainable'.
The loss for 2018-2019 of £222.6 million was before tax, and compares with a profit of £12.7 million the year before.
The directors' report says there had been 'several material and unprecedented challenges'.
These included delayed infrastructure upgrades, which particularly affected the May 2018 timetable changes, and 'prolonged' industrial action. A total of 101 new trains had been part of the franchise contract, and when the report was prepared 61 of these had arrived. The report also points out that 108 million journeys were made on Northern trains in 2019, which it describes 'a record'.
Northern is now operating an additional 2,000 services a week, according to the report, which it describes as part of 'a significant investment programme'.
It has been claimed as long ago as November 2019 that Arriva's owner Deutsche Bahn was in 'urgent talks' with the DfT over revenue shortfalls at Northern, but at the time these reports were neither confirmed nor denied.
The accounts contain a £180 million 'onerous contract' provision, but although the directors believe that a 'solvent wind-down' is possible, the company's auditors have warned of 'material uncertainty' over whether this provision will be enough. It includes a pension deficit of £4.6 million.
Reader Comments:
Views expressed in submitted comments are that of the author, and not necessarily shared by Railnews.
Most of Northern Rail's problems were due directly to Network Rail's inability to deliver electrification or Castlefield. That isn't "government", it's the fault of the public sector part of the railway industry?

I suppose even a loss of this size won't stop Mick Cash ranting about profiteering private companies. Frankly for an average return of 2% to 3% I'm not surprised the number of bids for franchises has pretty much dried up.
[A return of 2-3% has been built into franchise business plans for many years. I suggest that it is much more likely that the increase in risks, coupled with a rigid and 'micro-management' approach from the DfT, has caused the increasing lack of enthusiasm from the private sector in recent times. Northern is a good example, because a number of its problems were caused by Network Rail's failure to upgrade the network, coupled with late delivery of new trains. The profits as a percentage of turnover seem low, but very good when measured against the small capital investment required from franchisees.--Ed.]

And that, I suspect, is why Arriva didn't fight the government for the loss of the franchise, even though at least 50% of Northern's woes was the government's fault.