Posted 5th February 2020 | 5 Comments
Eurostar sets its sights on more growth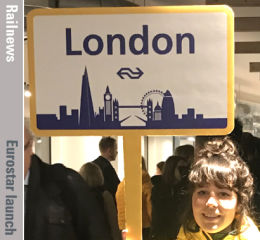 EUROSTAR chief executive Mike Cooper has told Railnews that he is delighted with the launch of through trains from Amsterdam to London, and is hoping that the next stage of Eurostar's development will see its route network extended into Germany.
A key factor is the proposed merger of Eurostar and Thalys, which already runs high speed trains between Paris or Lille to Brussels, continuing from there to Amsterdam or Germany, where Thalys serves a number of cities including Cologne, Düsseldorf, Essen and Dortmund.
A merger would combine these routes with the Eurostar network, which not only includes London, Brussels, Amsterdam and Paris, but also extends to the south of France, particularly to ski resorts.
Eurostar ran a preview service for invited guests from Amsterdam to London on 4 February. It was the first time that a train for London had carried passengers from the Dutch capital, and public services will begin on 30 April, with Rotterdam also served from 18 May.
The development has been welcomed by Dutch ministers and the domestic train operator, state-owned Nederlandse Spoorwegen, while UK transport secretary Grant Shapps spoke at St Pancras International after the preview train from Amsterdam had arrived.
He said: 'I believe this sends a very clear message indeed, that although Britain has left the European Union, we are emphatically not leaving Europe. And nothing says that better than investing in modern transport links. Our connections to other nations demonstrates our commitment to operate with opportunities beyond our shores, bringing our UK business closer to other markets.'
As far as a Thalys merger and the possibilities of expansion are concerned, Eurostar CEO Mike Cooper said: 'We have only scratched the surface with the Netherlands. If I look at our priorities over the next 12 to 24 months it is absolutely to develop that. We are considering this merger with Thalys, and one of the benefits is that it would give us access to the German market. Thalys has been through the learning curve of taking trains across borders into Germany, and that learning curve will be an important strategic asset for us should the deal go ahead.'
Reader Comments:
Views expressed in submitted comments are that of the author, and not necessarily shared by Railnews.
The main problems are not technical, but political.
The paranoia of the Brit "government" is pathetic & stupid … it's a bloody TRAIN. If we really have to, then passport checks should be done in transi,t with a 10 minute check-in timing, because it takes a long tome to load one of those.
Of course we are currently heading in the opposite, xenophobic little-Englander direction because of the utter insanity of "Brexit"

There is insufficient demand to justify direct HS2 trains between Bham (or Manc) and Paris, even if Air Passenger Duty was doubled, as it should be (at least) to reflect aviation's true environmental costs.

All that is needed is a weather-proof 'travellator' between Euston and StP, and quick Eurostar check-in.

I reckon the problems identified by the Editor might be solved in 15 years time as follows
1. HS2 Phase 1 plans to use in gauge stock and will create some spare capacity on WCML. So a follow on order for Eurostar could solve those problems.
2. Birmingham International station might have room on the northeast side for an extra platform and customs.
How about that as a rival to Crossrail 2 and Northern Powerhouse Rail and a follow on to Eurostar's more immediate ideas?

It would be good to see a plan to have direct trains from other cities in the UK to the continent. I realise that this would require technical work , a link from HS2, as well as administrative work, to address border controls. Are there any significant cities beyond London that could be reached now, from the technical point of view?
[In theory, the most likely city beyond London would be Birmingham. Paris and Brussels should be achievable from there in less than four hours (after this flights tend to compete seriously with rail). The good news is that a connection exists from HS1 just north of St Pancras to the North London Line, which leads on to the West Coast Main Line. The less good news is that the NLL and the main WCML are already close to capacity, and even if paths could be carved out for international trains there would no room for them at congested Birmingham New Street, not least because a dedicated platform secured for international services could not be spared. The really bad news is that modern Siemens Velaro Eurostar sets would be out of gauge on the domestic network.--Ed.]