Posted 4th February 2020 | 2 Comments
First Eurostar leaves Amsterdam for London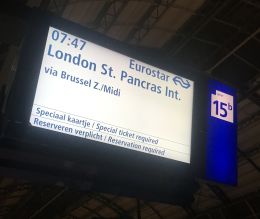 THE first Eurostar to run directly from Amsterdam to London has made an inaugural journey, as an overture to public services from the Dutch capital starting on 30 April. Trains will also call at Rotterdam from 18 May. Eurostar hopes to increase the two trains a day from Amsterdam to four and possibly five later on.
Today's special left Amsterdam shortly before 08.00 CET, and arrived at St Pancras International at 11.05 GMT.
Although trains from London to Amsterdam started running in April 2018, it has not been possible to allow passengers bound for Britain to embark from Amsterdam until now, because new security measures at Duch stations had to be agreed with the Dutch government. The agreement is not connected with the UK's former membership of the European Union.
Tickets for the new service will go on sale on 11 February, and passengers from the Netherlands to Britain will no longer have to change at Brussels.
The chief executive of Dutch Railways Roger van Boxtel was at Amsterdam Centraal this morning.
He told guests waiting to board today's special train: 'Brexit or not, London will be closer from 30 April. The international services to Brussels and Paris are already a success, and from today we can now add London. The sustainable train is the future and brings Europeans together.'
Reader Comments:
Views expressed in submitted comments are that of the author, and not necessarily shared by Railnews.
Great news! The Brexit doommongers must be dumbfounded?!